Speaker Louise Stutes skipped over Rep. Neal Foster, co-chair of Finance and a senior member of the House, instead picking Rep. Kelly Merrick of Eagle River to co-lead the conference committee that negotiates the final version of this year's Permanent Fund dividend.
Foster comes from a heavily pro-Permanent Fund dividend district and he probably asked to be excused from co-chairing the conference committee that is going to cut the dividend. Instead, an anti-dividend lawmaker, Rep. Merrick, is serving as chair for the three members from the House that sit on the committee. Her district is also pro-full-dividend.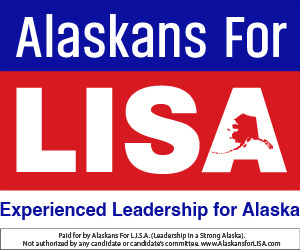 The others on the House side of the conference committee are also anti-Permanent Fund dividend lawmakers — Daniel Ortiz from Ketchikan and Bart LeBon from Fairbanks.
On the Senate side of the committee there are two anti-full-dividend lawmakers, led by Sen. Bert Stedman, along with Sen. Click Bishop of Fairbanks. They are from the Senate Finance Committee that they co-chair; Sen. Bill Wielechowski, a pro-dividend Democrat, fills out the roster for the Senate.
The conference committee met today to hash out its organizational structure: Stedman is chair and Merrick vice chair, and will begin work on Monday negotiating the operating budget and the Permanent Fund dividend. No public testimony will be taken during this process.
Read: What happens next with operating budget, dividend?
With help from the administrators of the Alaska Energy Dudes and Divas Facebook page, here's the list of who contributes to the six members of the conference committee:
Sen. Click Bishop (Fairbanks) 2018 special interest campaign contributions:
$2,000.00 ASEA/AFSCME Local 52
$2,000.00 Teamster ALIVE – Gaming
$1,500.00 AGC/PAC
$1,000.00 Alaska Laborers Local 341
$1,000.00 ALPEC Voluntary Contributions Laborers' Local 942
$1,000.00 Dentists of Alaska PAC
$1,000.00 TEAMSTER Alive PAC
$1,000.00 IUOE Local 302 PAC Account
$500.00 ABC Alaska PAC
$500.00 IBEW PAC
$500.00 Public Safety Employees Assn Political Action Committee
$500.00 AMAPAC
$500.00 NEA Alaska
$500.00 Employees Political Information Committee
$500.00 Alaska Realtors PAC
$250.00 Alaska Build PAC
$250.00 Alaska Sea Pilot PAC
$250.00 ATA Truck PAC
$200.00 Care Committee for the Advancement of Rural Electrification
Total: $14,950.00 – TOTAL 2018 special interest campaign contribution
---
Senator Bert Stedman (Sitka) 2020 special interest campaign contributions
$2,000.00 Teamster Alive – Gaming
$1,500.00 Alaska Republicans Inc
$1,000.00 Alaska Sea Pilot PAC Fund
$1,000.00 NEA-Alaska PACE
$1,000.00 AK. ST. Hospital & Nursing Home Assoc PAC
$1,000.00 IUOE Local 302 PAC
$1,000.00 ALPEC Voluntary Contributions Laborers Local 942
$1,000.00 Alaska Laborers Local 341 PAC
$1,000.00 Republican Women of Juneau
$1,000.00 IUOE Local 302 $1,000.00 IBEW PAC
$1,000.00 Capital City Republicans
$1,000.00 Dentists of Alaska PAC
$1,000.00 ASEA/AFSCME Local 52 PAC
$1,000.00 NEA-Alaska PACE
$500.00 Wells Fargo Bank Alaska P.A.C.
$500.00 ABC Alaska PAC
$500.00 BP Alaska Employee PAC
$500.00 Associated General Contractors PAC
$500.00 Alaska Realtors PAC Alaska Realtors PAC
$500.00 Conocophillips AK Employee PAC
$500.00 Plumbers & Pipefitters Local Union 262 PAC
$500.00 Wells Fargo Bank Alaska P.A.C.
$500.00 ALPAC $500.00 Capital City Republican
$500.00 Associated General Contractors PAC
$500.00 Alaska CHARR $500.00 Alaska Sea Pilots PAC
$500.00 ConocoPhillips AK Employee PAC PAC
$500.00 Alaska Realtors PAC
$500.00 Public Safety Employees Assn. PAC
$500.00 Alaska Professional Fire Fighters Assoc. PAC
$250.00 Public Safety Employees Assn. PAC
$250.00 Alaska Society of CPA
$250.00 Alaska State Chamber of Commerce
$200.00 Committee for the Advancement of Rural Elecric (PAC)
$150.00 Pacific Seafood Processors Assoc PAC
Total: $26,100.00 special interest campaign financial contributions
---
Rep. Dan Ortiz, Ketchikan, 2020 special interest campaign contributions
$250.00 Louise Stutes (Speaker of the House)
$2,000.00 APEA/AFT
$2,000.00 Public Employees Local 71
$2,000.00 Alaska Laborers Local 341
$1,000.00 IUOE Local 302
$1,000.00 Alaska State Employees Association AFSCME/ASEA Local 52
$1,000.00 IBEW Local #1547
$1,000.00 NEA Alaska
$1,000.00 Laborers Local 942 Fairbanks
$1,000.00 Alaska AFL CIO
$1,000.00 Plumbers & Pipefitters Local 262
$1,000.00 Carpenters Local 1243
$1,000.00 ASHNA PAC
$1,000.00 Carpenters Local 1281
$1,000.00 International Association of Firefighters Local 1204
$1,000.00 Laborers' Local 942
$1,000.00 Alaska Sea Pilot Pac
$1,000.00 NEA-Alaska PACE
$1,000.00 IBEW PAC
$1,000.00 Alaska Professional Fire Fighters Assoc PAC
$1,000.00 ACS Employees PAC
$500.00 Alaska Correctional Officers Assoc. PAC
$500.00 Alaska CHARR PAC
$500.00 Alaska Center PAC
$500.00 Juneau Central Labor Council
$500.00 Alaska Sea Pilot PAC
$500.00 Alaska AFL CIO
$250.00 Tongass Democrats
$200.00 Alaska Build PAC
$200.00 Alaska IBU PAC
Total: $26,900.00 2020 special interest campaign contributions
---
Rep. Kelly Merrick 2020 special interest campaign contributions
$2,000.00 Alaska Laborers Local 341 PAC
$2,000.00 ALPEC Voluntary Contributions Laborers Local 942
$2,000.00 Teamster Alive – Gaming
$1,000.00 Public Employees Local 71 PAC
$1,000.00 Alaska Laborers PAC
$1,000.00 ASEA/AFSCME Local 52 $1,000.00 – Juneau Central Labor Council
$1,000.00 UA Local 375
$1,000.00 Carpenters Local 1281
$1,000.00 ASEA/AFSCME PAC
$1,000.00 Alaska Laborers PAC
$500.00 BP Alaska Employee PAC
$500.00 Conoco Phillips AK Employee PAC
$500.00 Alaska AFL CIO
$500.00 Wells Fargo Bank Alaska
$500.00 Republican Women of Juneau
$500.00 Capital City Republicans
$500.00 Alaska Medical
$500.00 Associated General Contractors
$500.00 Conoco Phillips AK Employee PAC
$500.00 Dentists of Alaska PAC
$500.00 AK State Hospital & Nursing Home Assoc.
$500.00 Alaska CHARR PAC
$500.00 Capital City Republicans
$500.00 Conoco Phillips AK Employee PAC
$250.00 Alaska Professional Fire Fighters
$250.00 Alaska Miners Association
$250.00 Alaska Sea Pilot PAC Fund
$100.00 Valley Republican Women of Alaska
$50.00 Alaska Republican Party
Total: $21,900.00 – 2020 Special interest financial campaign contributions
---
Rep. Bart LeBon 2020 Special interest financial campaign contributions
$1,500.00 Republican Women of Fairbanks
$1,000.00 Alaska Miners Association PAC
$1,000.00 Capital City Republicans
$1,000.00 Alaska State Hospital & Nursing Home Association
$1,000.00 Laborers' Local 942
$1,000.00 Alaska Miners Association
$1,000.00 ABC Alaska PAC
$1,000.00 Associated General Contractors of Alaska
$1,000.00 Edward Rasmuson
$500.00 Cathryn Rasmuson
$800.00 National Association of Insurance & Financial Advisors
$500.00 Republican Women of Fairbanks
$500.00 BP Alaska Employee PAC
$500.00 Alaska Professional Fire Fighters Association
Total: $12,300.00 – Special Interest Contributions
---
Sen. Bill Wielechowski 2020 Special Interest Contributions
$2,000.00 Alaska Correctional Officers Association
$2,000.00 Alaska Laborers Local 341
$2,000.00 IBEW Local 1547 PAC
$2,000.00 NEA Alaska Pace
$1,250.00 Alaska Sea Pilot PAC
$1,000.00 ACS Employees PAC
$1,000.00 ALPEC Voluntary Contributions Laborers' Local 942
$1,000.00 Anchorage Police Dept. Employees Association
$1,000.00 APEA/AFT PAC
$1,000.00 ASEA/AFSCME Local 52 PAC
$1,000.00 International Union of Operating Engineers PAC
$1,000.00 Laborers Local 942
$1,000.00 Public Employees Local 71 PAC
$1,000.00 Public Safety Employees Association PAC
$1,000.00 UA Local 375 Political Action Committee
$1,000.00 UCFW Local 1496
$1,000.00 United Association Local 367 PAC Fund
$500.00 United Association Local 367
$500.00 AK State Hospital & Nursing Home Association PAC
$500.00 Alaska Professional Fire Fighters Association Political Action Fund
$500.00 Alaska Realtors PAC
$500.00 Anchorage Central Labor Council
$500.00 United Brotherhood of Carpenters & Joiners of America Local 1243
$250.00 Alaska CHARR PAC
$250.00 International Association of Firefighters
$250.00 IUOE Local 302
$250.00 Tongass Democrats
$200.00 Alaska Build PAC
$200.00 University of Alaska Faculty Association
Total: $25,650.00 – 2020 Special Interest Contributions