Twenty-five state attorneys general, including Alaska's Attorney General Treg Taylor, are calling on U.S. Attorney General Merrick Garland to enforce a federal law that prohibits people from targeting judges' and justices' homes in an attempt to intimidate them.
In a letter sent to Garland last week, the attorneys general pointed out that federal law prohibits picketers and protestors from targeting judges' homes, "with the intent of interfering with, obstructing, or impeding the administration of justice."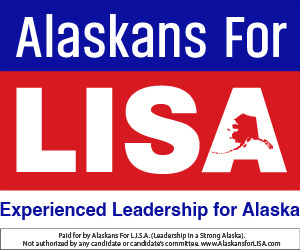 "We the undersigned Attorneys General act daily to uphold the rule of law," the state attorneys wrote to Garland. "These remarkable recent events provide you an opportunity to do the same."
The letter was signed by attorneys general from Alaska, Arizona, Arkansas, Georgia, Idaho, Indiana, Kansas, Kentucky, Louisiana, Mississippi, Missouri, Montana, Nebraska, Ohio, Oklahoma, South Carolina, South Dakota, Tennessee, Texas, Utah, Virginia, West Virginia and Wyoming.
After a Supreme Court draft opinion was leaked earlier this month showed that the majority of Supreme Court justices have voted to overturn Roe v Wade, abortion rights activists published addresses of those justices' homes. For several days, organized protests have taken place outside of them, and threats of violence have been made against them.
Over 100 protestors marched and chanted in front of Justice Samuel Alito's home last week; he is the justice whose draft opinion was leaked to the media by an unknown person working for the U.S. Supreme Court.
The letter to Garland says the U.S. Attorney General is obligated to uphold the law, and they point to threats of violence and actual violence perpetrated by abortion activists over the past week that have gone without punishment, even while Garland has ordered the Department of Justice to surveil parents who have protest school board policies relating to Covid and transgender students.
"You were quick to respond to the purported 'threat' of parents speaking out at local school board meetings (though the basis for your threat assessment was shaky to say the least). Here, in the face of escalating extremism directed at the judicial branch, you have an obvious role to play," the attorneys general wrote.
"Congress recognized that pressuring judges to change their votes by protesting outside their homes directly threatens the rule of law," the letter continued "You profess to share those concerns, having unequivocally stated that attacking a courthouse 'to prevent judges from actually deciding cases' plainly constitutes 'domestic extremism, domestic terrorism.'"