A last-minute attack mailer on candidate Al Fogle, running for House District 26, showed up in mailboxes on Saturday. Recipients were treated to a smear telling recipients that the man is gay, a father of children, and supports the use of condoms. It's all done in a way that makes Fogle look unfit.
But it has backfired a bit on the Joe Riggs' campaign, which was responsible for the mailer. Some recipients sent it to Must Read Alaska and said it was just dirty campaigning.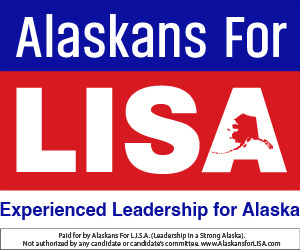 Not all appreciated that the attack included Fogle's family, which includes two adopted children. Generally, candidates are advised not to bring in the children or spouses of the family of an opposing candidate into an attack.
In fact, in addition to being a parent, Al Fogle is also a war veteran, having served in the Iraq War as a member of the U.S. Army. He attended the University of Alaska Anchorage and received a bachelor's degree in finance, with a minor in criminal justice. He is an employee benefits consultant at Northrim Benefits Group and is president of the Alaska Association of Health Underwriters.
"The Joe Riggs mailer attacking Albert Fogle is a largely a non-issue based hit piece that is really just a cheap personal attack.  I am very disappointed in Joe Riggs' campaign tactics," said Tuckerman Babcock, chairman of the Alaska Republican Party.
For the chairman of the Republican Party to weigh in during a contested primary is a sign that the ugly campaign tactic went too far.
Earlier in the year, Babcock warned candidates that he would not tolerate excessive personal attacks of other Republican candidates. Usually, he likes to let candidates sort out their policy differences, and this is the first time he has weighed in publicly on such an attack.
Some Republicans feel that being gay should preclude people from serving in office, while others feel that sleeping arrangements are a matter of personal liberty. The Republican platform supports a definition of marriage being between one man and one woman. But the Republican platform also supports individualism, personal responsibility, and privacy. And plenty of single mothers have run for office as Republicans without having their names smeared because the party supports children being raised by a mother and a father.
The GOP platform also supports adoption.
There are 4,119 registered Republicans in District 26 and another 8,327 who are undeclared or nonpartisan and may vote in the Republican primary.
Three Republican candidates have filed for the seat being vacated by Rep. Chris Birch as he makes a bid for Senate: Al Fogle, Joe Riggs and Laddie Shaw.