Colin Powell has died from complications of Covid-19 at the age of 84. His family wrote on Facebook, "We have lost a remarkable and loving husband, father, grandfather and a great American." They noted he was fully vaccinated.
He had a close relationship with Alaska Sen. Ted Stevens. In 1988, Stevens suggested Colin Powell should be the vice presidential candidate with George H. W. Bush. Stevens was the first person to ever suggest to Powell that he should have presidential aspirations.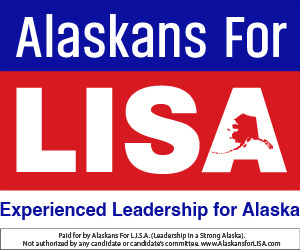 That was back when Vice President Bush was running for president after the Reagan era; he chose Dan Quayle as his running mate, rather than Powell, who was Reagan's National Security Adviser.
Later, in 2000, Texas Gov. George W. Bush asked Powell to become his running mate, but Powell was not interested. G.W. Bush ultimately chose Dick Cheney.
Powell, who became the first black Secretary of State and Chairman of the Joint Chiefs of Staff, showed such wisdom and leadership during his time in Republican Administrations, that many people were on board with the idea of him running for president. He was popular with Republicans and Democrats alike.
Prior to Barack Obama's election as president in 2008, Powell and his Secretary of State successor, Condoleezza Rice, were the highest-ranking blacks in the history of the federal executive branch, according to Wikipedia.
The Powell-Stevens friendship endured for decades. When Stevens was investigated for corruption in 2008, Powell testified as his trial, saying he knew Stevens "extremely" well and describing Stevens' character as "sterling."
Prosecutors from the Department of Justice, who were later found to be corrupt, accused Stevens of lying on Senate financial disclosures about renovations to a cabin he owned in Girdwood.
Powell testified that he had known Stevens well for 25 years.
"As we say in the infantry, this is a guy you take on a long patrol," the retired four-star Army general told the court.
"There was never any suggestion that he would do anything that was improper," Powell said. The two had worked on military appropriation issues for many decades.
Stevens has always been honest and upfront — "someone whose word you can rely on" — when he worked with him on Capitol Hill, Powell said.
In Stevens Powell explained that "I had a guy who would tell me when I was off base. I had a guy who would tell me when I had no clothes on. Figuratively."
Powell told the court that Stevens has always put country first. When Powell once told Stevens the military needed to reduce forces in Alaska, Stevens didn't like it but listened and agreed to support the draw-down for the good of the country.
"He fights for his state, he fights for his people but he always has the interests of his country at heart," Powell said.
In 1999, when Stevens was awarded the Eisenhower Leadership Award, he said, "I am filled with awe and trepidation when the list of past recipients of this award is read. I was a foot soldier in Ike's battle to "Wage Peace." To follow President Bush, Colin Powell, Bob Dole, Lloyd Bentsen, and Brent Scowcroft is an honor that takes my breath away."
For some Republicans, Powell was too moderate to become the presidential nominee for their party. He was not as conservative as Reagan. Some called him a "Rockefeller Republican." He had come out in favor of gun control, some abortions, and banning prayer in school.
But in 2016, even though he was not a candidate, he received three electoral votes from faithless Democrat Party electors from Washington state who did not want to cast their votes for Hillary Clinton.
Born in New York City in 1937 to Jamaican immigrants and raised in Brooklyn, Powell had attended public schools in New York and City College of New York. A member of ROTC, he received a commission as an Army second lieutenant in 1958. He served two tours in Vietnam and rose through the ranks until being named Commander of the U.S. Army Forces Command in 1989.
During this time as chairman of the Joint Chiefs of Staff, he oversaw the the invasion of Panama in 1989 and Operation Desert Storm in the Persian Gulf War against Iraq in 1990–1991.
He was known for the Powell Doctrine: The military should be used only if the condition met three criteria that included national security interests, the willingness to use overwhelming force, and widespread public support.
His work after retirement in 2004 was as an author, public speaker, and chair of America's Promise, a nonprofit organization to build the character of America's youth. He was awarded the Presidential Medal of Freedom twice, the Congressional Gold Medal, the Presidential Citizens Medal, and honorary degrees from universities and colleges throughout the country. His autobiography, "My American Journey" was a best-seller.