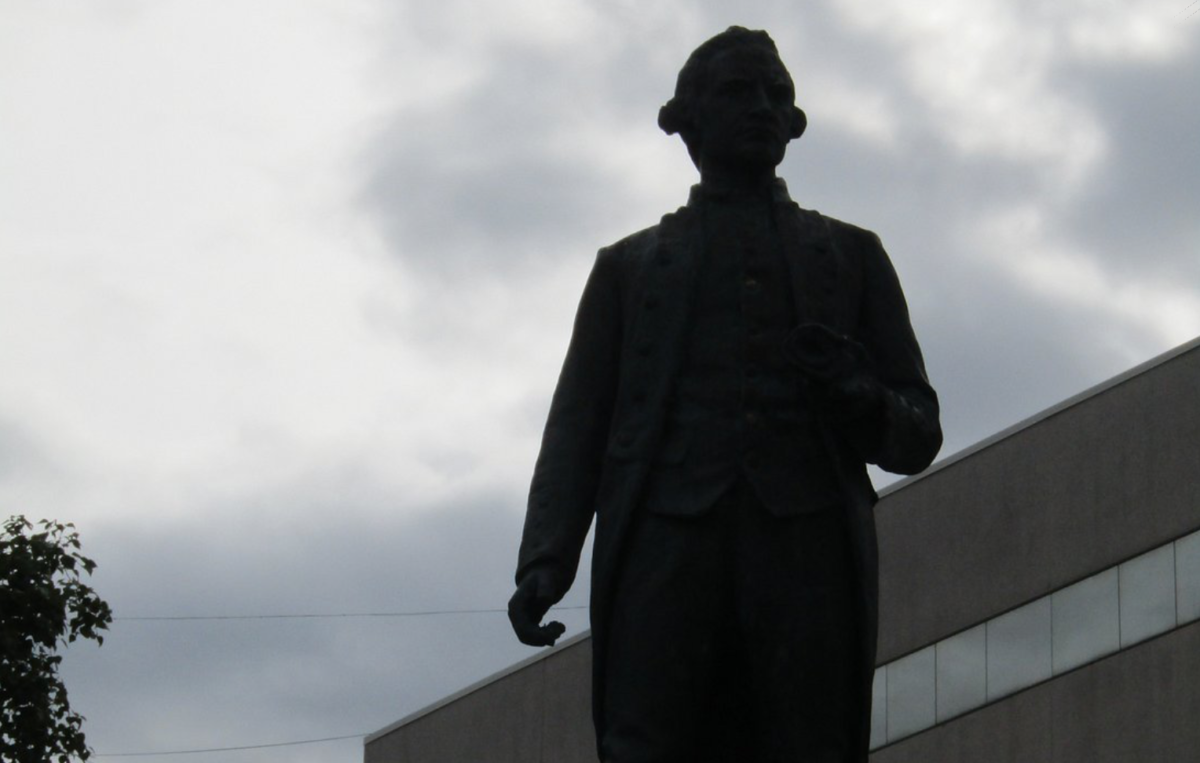 (The following letter was addressed to Mayor Ethan Berkowitz and the Anchorage Assembly and signed by four former mayors)
Many residents are concerned with the lack of pubic process in the recent unilateral decision by Mayor Berkowitz to leave the fate of the Captain Cook statue in Resolution Park to the Native Village of Eklutna. I and several other former mayors share in that concern.
The statue was donated to Anchorage by the British Petroleum Corporation in 1975 and installed in 1976.  Ironically, their gift was in celebration of the 200th anniversary of our country's Declaration of Independence from England.  
It was designed by renowned sculptor Derek Freeborn and replicas of this same work appear in other areas where Captain Cook explored, including Hawaii, Australia, British Columbia and our sister city of Whitby, England, where Captain Cook began his naval career.
The sudden impetus to remove and/or re-locate the statue seems to be an extension of similar actions throughout the country, where historical monuments that some people consider offensive are now targets of removal, often times through criminal vandalism, and without a true public process.
While we are happy that the good citizens of Anchorage have not resorted to such acts, the lack of public input into any decision regarding the Captain Cook statue leaves us wondering: "what's the rush?" The best public decisions are those that are thoughtful and inclusive.
Resolution Park is a dedicated municipal park and as such, any decision altering the park should go before the Park and Recreation Advisory Commission and to our knowledge that has not occurred. We would also think that the Historical Advisory Commission would want an opportunity to have input.
Perhaps a process similar to the one used to name public places would be appropriate. In that process, four citizens, two appointed by the mayor and two by the assembly meet, hold a public hearing and decide on naming recommendation based on a set of prescribed criteria. That recommendation then goes to the Assembly which also holds a public hearing and then makes the final decision.
We are encouraged by the comments of Eklutna Village Tribal President Aaron Leggett, also a curator at the Anchorage Museum.   He suggested that the best course of action may be not to remove the statue but to enhance the exhibit at Resolution Park to include historical information and recognition of the Dena'ina people who inhabited the Cook Inlet area when Captain Cook conducted his explorations.  
Governor Dunleavy recently responded in a similar vein when the subject of removing historical monuments and works of art was discussed. He said it is important to retain our history but, where appropriate, to add additional works of art and/or historical information to enhance and to add context to what already has been displayed.
Captain Cook was one of the world's greatest explorers and cartographers.  The fact that his journeys brought him to Alaska is of great historical significance.  
He was not a political figure, nor a colonialist.  He justly deserves recognition and any decisions regarding what form that recognition takes can only benefit from a robust and open public process.
Mr. Mayor and Assembly members, we urge you to consider using something similar to the public facilities naming process and to follow the established lawful procedures regarding changes to our parks so that all voices in our community have an opportunity to be heard.
Sincerely,
Former Anchorage Mayors                                                                                                                                    Dan Sulllivan                                                                                                                                                        George Wuerch                                                                                                                                                        Rick Mystrom                                                                                                                                                              Tom Fink