Anchorage Assembly Vice Chair Chris Constant, when asked by Assembly Chair Suzanne LaFrance to lead the Pledge of Allegiance on Oct. 5 before the Assembly took public testimony, could be heard leaving out the phrase "under God" as he led the public in the recitation.
His voice, picked up by microphone and broadcast throughout the room, clearly dropped the phrase. When members of the public shouted out the end of the Pledge, "with liberty and justice for all," Constant then pointed them out and warned them they would be removed.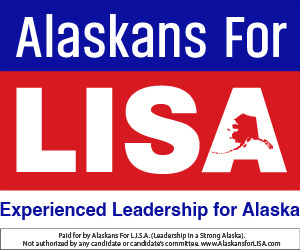 Read more about the history of the changes to the Pledge of Allegiance at this link.
The Monday night meeting was devoted nearly entirely to public testimony on AO2021-91, Assemblywoman Meg Zaletel's mask mandate.
Bernadette Wilson, a well-known civic leader who testified later on the proposed ordinance, asked the public if a man who cannot manage to say the Pledge properly should really be in charge of their health decisions:
"How awkward it is that assemblyman Constant can't even get the Pledge of Allegiance right but he can get our health care right?" she asked.
Wilson also pointed out the irony that the Assemblywoman Meg Zaletel, who is pushing the masks-for-all ordinance, refuses to sit up on the dais among other members of the Assembly — all who are wearing masks except Assemblywomen Jamie Allard and Crystal Kennedy — and instead dials into the meeting from home.