CENSUS BUREAU SAYS ALASKA SAW POPULATION DROP LAST YEAR
According to recently released data from the U.S. Census Bureau, the community in the United States with the youngest of the "older than 65" demographic is Fairbanks.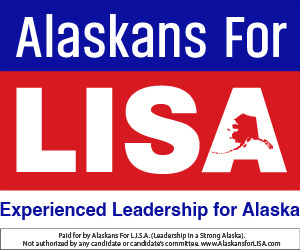 The median age of the U.S. "older" population was 73.2 years in the 2014-2018 American Community Survey.
While Highlands and Palm Beach Counties, Fla., and Mower County, Minn. had some of the highest median ages among the 65 years and older population, at about 75 years, Fairbanks North Star Borough anchored the lowest, at age 70.
It's not surprising, considering how many Alaskans move south as they enter retirement, for reasons of cost of living, family, caregiving, health, or lifestyle.
As for the male-female ratio, Fairbanks, Kenai, Mat-Su were among the few in the nation that had more men over age 65 than women over that age.
The other counties with more older men than older women were Cass County, Minn.; La Paz County, Ariz.; Monroe County, Fla.; and Polk County, Texas.
Danville city, Va. (61.7%); Bronx County, N.Y. (61.0%); and Muscogee County, Ga. (60.3%), were among counties with the highest percentage of older women than older men.
Older Fairbanksians are remaining in the workforce longer, rather than retiring, according to the survey.
Fairbanks North Star Borough, Garfield County, Colo.; Marin County, Calif.; Montgomery County, Md.; and Windham County, Vt., saw more than 27% of older-than-65 citizens still working. That is higher than the national average of 25.7%. Alexandria City, Va had the most older folks still working, at over 30 percent.
Alaska was among 10 states that lost population between 2018 and 2019. The states were New York (-76,790; -0.4%), Illinois (-51,250; -0.4%), West Virginia (-12,144; -0.7%), Louisiana (-10,896; -0.2%), Connecticut (-6,233; -0.2%), Mississippi (-4,871; -0.2%), Hawaii (-4,721; -0.3%), New Jersey (-3,835; 0.0%), Alaska (-3,594; -0.5%), and Vermont (-369 ; -0.1%).
NATION'S GROWTH SLOWING
According to the U.S. Census Bureau's national and state population estimates, 42 states and the District of Columbia had fewer births in 2019 than 2018, while eight states saw a birth increase. With fewer births in recent years and the number of deaths increasing, natural increase (births minus deaths) declined steadily over the past decade.
"While natural increase is the biggest contributor to the U.S. population increase, it has been slowing over the last five years," said Dr. Sandra Johnson, a demographer/statistician in the Population Division of the Census Bureau. "Natural increase, or when the number of births is greater than the number of deaths, dropped below 1 million in 2019 for the first time in decades."
The ACS is the largest source of small area statistics for social, economic, housing and demographic characteristics. It gives communities the current information they need to plan for what is happening in their communities.
The 2020 Census will begin its count in Alaska, starting in Toksook Bay, and the first person to be counted in America will be "Lizzy," who will be counted this month in the far-west community that had about 661 people, as of July 1, 2017.