ELECTION SET-UP, AND BUDGET BATTLE LINES BECOME MORE CLEAR
The surprise joint session of the state House and Senate today failed to override the governor's budget vetoes pertaining to $5 million for the ferry system and $70 million in school bond debt reimbursement and funds for rural schools.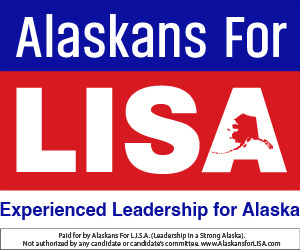 The vote was 37 to override to 20 against overriding, and came after three hours of floor speeches, mostly from those in favor of the override. However, the attempt to override needed 45 votes to succeed.
Although it appears a momentary victory for budget hawks, who pointed out that the state is facing a $1.5 billion gap in the upcoming Fiscal Year 2021 budget, the vote was also a stark demonstration to the Dunleavy Administration of where the battle lines will be drawn on the next budget.
The three members who were absent would have brought the override "nay" votes to 23, but today's vote shows the vast majority of the Legislature was in favor of breaking the deal crafted by Sen. Bert Stedman with Gov. Mike Dunleavy last year, when it came to funding the ferries at $43 million, and are not likely to seek real state savings.
Senators and representatives gave reporters plenty of opportunities for sound bites, and the futility of it was pointed out by Rep. Gabrielle LeDoux of Anchorage, who said she was pretty good at counting and she didn't see the votes present, which made her wonder why a matter was brought to the floor, when it was not ripe for passage.
In some ways, it may be the culmination of a year of House and Senate leaders failing to communicate with the Governor's Office.
The day's theater performance foreshadows budget battles ahead: In order to access the Constitutional Budget Reserve, the Legislature will need three quarters from both bodies to agree — 45 votes in all. That will be a key sticking point for completing the Legislature's work in the statutory 90 days, and will put pressure on some legislators who are facing reelection.
In fact, today's joint session may have been about setting people up to be put on record, in advance of using this vote against some legislators in the coming November election — legislators from ferry port districts who are facing reelection.
That theory was supported when two members of the Democrat-led House Majority — one a Republican and the other a Democrat — were heard talking in the hallways about using today's vote to "take people out."