The man who filed a letter of intent to run against Sen. Cathy Giessel, District N, has resigned from his State of Alaska job as a metrologist (measurement scientist) so he can focus 100 percent of his efforts on his campaign.
Roger Holland said that he would have continued, but he already has District N meetings to attend and "this will open things up for me, and allow me to work on things that would languish on the campaign."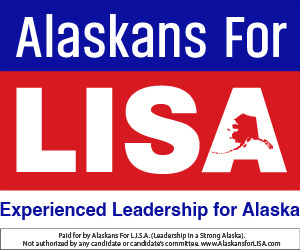 Holland said he did not need to resign from his state job because he had only filed a letter of intent to run — that is different than filing an actual declaration of candidacy, something prohibited by the State Personnel Act. He would have had to resign by June 1, however.
But Holland's early fundraising has been successful since he announced his intent on Tuesday to be a Republican candidate and challenge the current Senate president.
District N is the Anchorage hillside and covers House Districts 27 and 28. Holland said he would be attending his District 28 Republican convention and meeting on Feb. 8, from 8 am to 3 pm at Rabbit Creek Church.