BY WIN GRUENING
On Nov. 30, Alaska's southcentral region experienced a magnitude 7.0 earthquake ranked as the second most damaging in our state's history.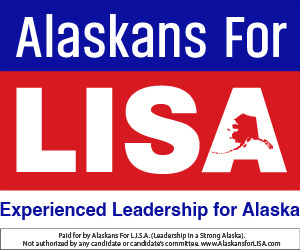 But better preparedness, improved building standards, and faster response all worked together to help mitigate the impacts. Alaskans were rightfully proud of their resilience and orderly response to this event.
Gov. Dunleavy's $440 million in vetoes of the Legislature's budget, adding to the $190 million in cuts passed earlier by the Legislature, also generated shockwaves throughout Alaska.  Virtually no sector of the budget or geographic area of the state was spared.  
The public reaction was immediate, seismic and unconstrained.
This brought into sharp focus the ramifications of the governor's plan to pay a full statutory Permanent Fund Dividend – estimated currently at $3,000 per person at a cost of $1.9 billion annually.
The Legislature has been unable to override some or all of Governor Dunleavy's vetoes since 45 of the 60 legislators were required to reach agreement. This was an unlikely scenario given the differences that had surfaced throughout the regular session.
Lawmakers gaveled in Monday, July 8, for a 30-day special session called by the governor.  Presumably, they were to consider funding for the Permanent Fund Dividend and pass a capital budget – since neither were decided before legislative adjournment on June 13.
But that's in limbo, since the Legislature couldn't agree on the location of the special session – Juneau or Wasilla.  The governor specified in his special session call that the location would be Wasilla. A majority of the Legislature decided to meet in Juneau while some legislators met in Wasilla.  A court may decide this as the Legislature and the Governor each believe they have the right to determine the location of this meeting. 
At this point, it's hard to see how this will play out. Both sides have legitimate concerns that deserve to be addressed. But the divisions run deep and, in many cases, are philosophical in nature.
The ugly truth remains…over the past decade, Alaskans have squandered their savings instead of preparing for the inevitable. Living beyond our means has led to our current situation.
It's useless now to point fingers or wring our hands.
Even if an eventual agreement is struck between the Governor and the Legislature to reduce the PFD amount to half the Governor's request, all the cuts now proposed (or an equal amount in taxes or savings) will be needed to pay for it.
Many contend it makes no sense to pay for a Permanent Fund Dividend with an income tax.
So, it's likely we'll be facing additional cuts at the state level next year, requiring more belt-tightening before the state budget stabilizes.
Municipalities should recognize this and plan accordingly. Some have already begun.
Mayor Ethan Berkowitz announced that Anchorage property taxes probably will be raised.
In the fastest-growing area of the state, the Mat-Su Borough wisely cut $12 million from its budget, yet no job layoffs are anticipated.
Facing a school debt reimbursement reduction of $3.7 million, Juneau Mayor Beth Weldon said the city plans to use restricted budget reserves to cover that shortfall temporarily. Juneau's borough assembly scheduled a meeting on July 22 to discuss possible long-term solutions to mitigate state budget cut impacts.
Hopefully, the Juneau Assembly will take a balanced approach that includes budget reductions in less essential programs and services and continues their review of tax policy – in particular, the exemption of sales tax collections on retail sales by nonprofits.
Without matching Mat-Su Borough's growth, Juneau's current demographics (flat population and state job losses) cannot absorb significant state or local tax increases that would only make housing less affordable and economic development less viable.
Postponement or scrapping of large scale non-essential projects will be necessary. In Juneau, this includes, specifically, a new $26 million performing arts center which recently requested $7.5 million in city funding. Coupled with $17 million in proposed repairs/upgrades to Centennial Hall convention center and a desire for a new $26 million city hall, it would be irresponsible to consider tax-hiking projects like these in this unstable budget environment.
We can't control Mother Nature, and even though we are the Capital City, we can't call all the shots.
But we can prepare for the challenges ahead.
Juneau's city leadership has been fiscally responsible in the past and we should expect them to remain so as these budget tremors continue.  
Win Gruening retired as the senior vice president in charge of business banking for Key Bank in 2012. He was born and raised in Juneau and graduated from the U.S. Air Force Academy in 1970. He is active in community affairs as a 30-plus year member of Juneau Downtown Rotary Club and has been involved in local and statewide civic organizations.