THAT'S NOT WHAT ONE BETHEL MEDICAL OFFICIAL REPORTED
It took truth about a week to get its shoes on and correct the record on hospital capacity in Alaska, during this era of COVID-19.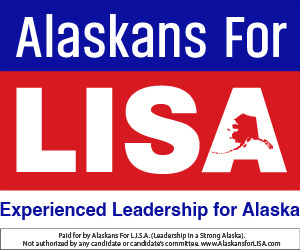 Alaska State Hospital and Nursing Home Association CEO Jared Kosin today corrected a misperception that the hospitals are running out of beds. He said hospital capacity is holding up fine, even with COVID-19 patients.
"There's been a lot of questions about ICU capacity, hospital capacity, and the health of our system," Kosin said.
Those questions may have come after a Yukon-Kuskokwim Health Corporation medical doctor said the state is running out of hospital beds for COVID-19 cases, and that Bethel's medical clinic had to keep a patient an extra day because there were no available beds in Alaska's largest city.
"This was an ICU-level patient, and all the ICU beds in Anchorage were full," said YKHC Chief of Staff Dr. Ellen Hodges, to KYUK radio. "So we've already reached, I think, the limits of our capacity of the healthcare of the state. So it makes some of these mitigation strategies more important."
That is just not the case, according to what Kosin said today in a video report that was embedded in Gov. Mike Dunleavy's video message on the virus.
Dunleavy started his report by saying that officials have learned that the virus is not as deadly as it was once believed to be. The death rate is going down, even while number of cases is going up, he said.
From June to early October, the hospitalization rate for COVID-19 patients is 2-4 percent, far less than the 10 percent it was prior to June.
"So in other words, even though our case numbers are going up, hospitalizations and the death rate are going down," Dunleavy said. "That's because we understand this virus more. We understand how to deal with folks who are infected."
And the medical community has learned how to keep the virus away from those who are most vulnerable, he noted.
"I just want to make sure we understand that none of us should be terrified today. None of us should be scared today. We should be concerned, and we should make sure that we take all the precautions necessary to prevent ourselves from getting the virus," Dunleavy said. "The chances of you going into the hospital if you get the virus is slim."
Dunleavy acknowledged that the virus is still highly contagious and dangerous to some people, and precautions are still important.
"This virus is not the extinction event we thought it was going to be," Dunleavy said.
Earlier today, the Municipality of Anchorage put out a Nixle alert with a completely different message, warning people that they were in grave danger of getting the virus if they gather in groups.
"Are we seeing an unusual number of ICU patients coming through the door? And the answer so far, is no," the hospital association's CEO Kosin said.
"This month, in October, on a per-day basis, we're averaging about 57 patients in the ICU beds in Anchorage. Last month, the average was 54 patients. The month before that, in August, it was 53 and in July it was 56. So far, trends are consistent with ICU beds," Kosin said.
Looking at COVID-19-positive patients who are in ICU beds, "thankfully, the trends are pretty similar." On a per-day basis, Anchorage hospitals are averaging 9.6 patients in ICU beds in Anchorage. In September, the average was 9.1
"Are we seeing a rise in overall hospitalizations due to COVID? Again, thankfully, the answer is no," he said. In October, the average number of COVID-19-positive patients in Anchorage hospital beds is 25. In September, the average was 29 and in August it was 28.
"The takeaway at this time is hospital capacity is holding up," he said. "We are managing the situation. The situation has been pretty consistent for the last couple of months."
Why the Bethel doctor would report that Anchorage beds are full is a mystery, when the state's COVID-19 data hub shows no such thing.
Hodges had told Lower Kuskokwim School District Superintendent Kimberly Hankins about the Anchorage bed shortage and the update was reported on public broadcasting on Sept. 30.