PUBLIC HEARINGS AND COMMUNITY MEETINGS TO HASH OUT BUDGET OUTSIDE OF JUNEAU
Gov. Michael Dunleavy announced his long-awaited "Statewide Discussion for a Permanent Fiscal Plan," a series of community discussions and meetings to outline a permanent fiscal plan for Alaska. The discussions will center on his FY 2020 budget proposal and constitutional amendments intended to rein in government spending, prevent new taxes without a vote of the people, and protect the Permanent Fund dividend.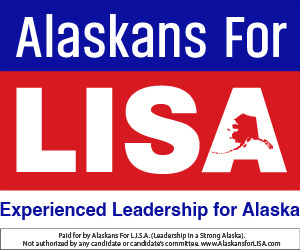 At the same time, the House Finance Committee released its own series of hearings that will take place across the state this weekend, essentially putting the governor's budget on trial in communities across the state. The House Finance hearings will precede the governor's community discussions.
"We are at a pivotal point in Alaska's history, a once in a generation moment where we must begin making the tough decisions to put our state on a path towards a permanent fiscal plan," Dunleavy said in a press release. "One thing is clear, in order to be successful, we must have the engagement and support of the Alaskan people. Alaskans overwhelmingly spoke during the last election cycle, and chose a government that would protect the PFD, fix our unsustainable spending, and put an end to the 'nothing is too important to reform' type attitude.
"Regardless of where this path takes us, Alaskans must buy into the decisions being made in Juneau. To that end, we're excited to announce a series of meetings, events and gatherings to further engage the Alaskan people. These presentations will outline our vision for Alaska, take an in-depth look into the direction we're headed, and further lay our proposals out in the open," Dunleavy said.
Joining Dunleavy will be Alaska Attorney General Kevin Clarkson, Commissioner of Revenue Bruce Tangeman, OMB Director Donna Arduin, and Deputy Chief of Staff Jeremy Price.
Dunleavy Discussion Events and Locations (others to be announced):
Kenai, AK – Monday, March 25, 2019
o   6pm – Public Event at The Cannery Lodge
Anchorage, AK – Tuesday, March 26, 2019
o   10am – Talk of Alaska
o   6pm – Public Event at 49th State Brewery
Nome, AK – Wednesday, March 27, 2019
o   4pm – Public Event at Old St.  Joseph's Hall
Fairbanks, AK – Thursday, March 28, 2019
o   8am – Fairbanks Chamber of Commerce
o   6pm – Public Event at Westmark Hotel
Mat-Su, AK – Friday, March 29, 2019
o   6pm – Public Event at Everett's
HOUSE FINANCE COMMITTEE MAJORITY MEMBERS WILL FAN OUT ACROSS STATE
They're hearings. But they're not really formal hearings. They are more like town halls.
The House Finance Committee majority members, has unveiled its own hearing schedule for this weekend, preemptively getting ahead of the governor. They'd caught wind of the governor's meeting schedule and set theirs in front of his.
But there will no recording of the meetings, nor will bey be entered into the legislative record called Basis. In fact, there will not even be quorums of the Finance Committee, just individual members of the Finance Committee majority members.
"While the committee typically holds public input hearings in the Alaska State Capitol in Juneau, the proposals contained in the governor's budget this year would fundamentally change life for many Alaskans: everything from the university and K-12 schools to the Alaska Marine Highway System and Pioneer Homes are slated for deep cuts under Governor Mike Dunleavy's proposal," the House Majority wrote.
"Given the historic nature of the decisions before policymakers and the fact that our savings accounts have been spent down, the committee is going above and beyond to listen directly to Alaskans. The hearings are the first of their kind in Alaska's history," the Majority's press release continued.
"Cuts and efficiencies are possible and necessary, but these proposed reductions would have significant impacts on elders and youth, rural and urban residents, and every facet of our economy," said House Speaker Bryce Edgmon, a Democrat from Dillingham who relinquished his party affiliation so he could become speaker in a Democrat-led caucus. "Because of this stark reality, all budget decisions must be informed by input from people across our state."
Here's the final House Finance schedule:
JUNEAU
Friday, March 22 from 5-8 p.m. in Room 519 of the Alaska State Capitol, 120 4th Street, Juneau
KETCHIKAN
Saturday, March 23 from 12-3 p.m. in Ted Ferry Civic Center, 888 Venentia Avenue, Ketchikan
MAT-SU
Saturday, March 23 from 12-4 p.m. at the Mat-Su LIO, 600 E. Railroad Avenue, Wasilla
BETHEL
Saturday, March 23 from 2-5 p.m. at the Yupiit Piciryarait Cultural Center, 401 Chief Eddie Hoffman Highway, Bethel
KENAI
Saturday, March 23 from 5:30-8:30 p.m. at Soldotna Sports Center, 538 Arena Avenue, Soldotna
ANCHORAGE
Sunday, March 24 from 2-5 p.m. at the Anchorage LIO, 1500 W. Benson Boulevard, Anchorage
SITKA
Sunday, March 24 from 2-5 p.m. at Centennial Hall Assembly Chambers, 330 Harbor Drive, Sitka
FAIRBANKS
Sunday, March 24 from 2-5 p.m. at the Fairbanks LIO, 1292 Sadler Way, Suite 308, Fairbanks