With former President Donald Trump endorsing three different statewide races in Alaska this year, some political analysts wonder if it will help or hurt the Alaska candidates he has chosen to back: Gov. Mike Dunleavy, senatorial candidate Kelly Tshibaka, and congressional candidate Sarah Palin.
A Trump endorsement may hurt some, and may help others in the Alaska races.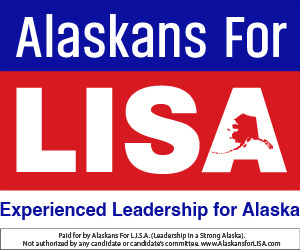 "My audience worships Trump and they are expressing disappointment in him now, because they are not happy about this (Palin endorsement)," said Dan Fagan, host of the morning radio show on News Radio 650 KENI. Other political observers in Alaska echoed that sentiment — as much as they like Trump, this was not a good move.
Trump was an early fan of Gov. Dunleavy, who was elected in 2018 after former Gov. Bill Walker's campaign cratered in spectacular fashion during the last few weeks.
Dunleavy came into office during the aftershocks of a major earthquake — a magnitude 7.1 that wrecked homes and roads in Southcentral Alaska on Nov. 30, 2018. Wildfires raged across 2.9 million acres of the state in 2019, and then in 2020, the Made-in-China virus reached the USA. The first case in Alaska was diagnosed in March of 2020. Dunleavy also faced a recall effort put together by some of Walker's top surrogates, including Scott Kendall, who is also one of Sen. Lisa Murkowski's top insiders and campaign advisers.
Trump stood by Dunleavy through thick and thin and supported Alaska-friendly policies to help the state recover from the Walker-Obama debacles, such as approving a road from King Cove to the Cold Bay air strip, and opening up limited logging in the Tongass National Forest and more leases for oil on Alaska's North Slope. While Murkowski's top advisers back in Alaska tried to destroy Dunleavy, he had the ear of the president, who met with Alaska's governor on several occasions. In fact, Dunleavy met with Trump more times than any sitting governor.
In a state that voted 53 percent for Trump in 2020, an endorsement from Trump seemed like a sure bet for Dunleavy.
Then came Trump's endorsement for Kelly Tshibaka, the upstart candidate who is taking on one of the most powerful people in the U.S. Senate — Lisa Murkowski. Murkowski is unloved by her own Alaska Republican Party, which has asked her to not run as a Republican. The party has endorsed Tshibaka. Murkowski's approval rating among conservatives in Alaska is lower than Joe Biden's ratings, and Trump's approval by conservatives is still pretty strong. He won Alaska by 53 percent of the vote in 2020. A Trump endorsement of Tshibaka gave her the needed name recognition to rocket to national attention and get on Fox News more than a few times.
"Trump's support of Alaska Republican Kelly Tshibaka, who is challenging Sen. Lisa Murkowski (R-Alaska) in an open primary, doesn't look promising either," wrote Alexander Bolton in The Hill on Monday. "Murkowski has more than six times as much cash on hand as her rival and felt comfortable enough about her reelection to vote for President Biden's nominee to the Supreme Court."
Suddenly, Trump did something odd — he qualified his support for Gov. Dunleavy, saying he would only back him if Dunleavy did not back Murkowski.
Bolton notes that Trump's backing of candidates is having a less-than-stellar record across the country. Trump backed former Sen. David Perdue, a Republican, in the Georgia governor's race, yet incumbent Gov. Brian Kemp, also a Republican, is far ahead in the polls and may be in landslide territory for the May 24 primary.
Trump's endorsement of U.S. Senate candidate Sean Parnell in Pennsylvania (no relation to Alaska's former governor) was a bust when Parnell dropped out after being accused of domestic violence.
Trump's endorsement of Rep. Mo Brooks in Alabama went sideways when Brooks started tanking in the polls, causing Trump to take back his endorsement.
And Trump has now endorsed J.D. Vance, author of "Hillbilly Elegy," causing heartburn with Republicans in Ohio, where the Senate seat is in play. Conservatives prefer former Ohio state Treasurer Josh Mandel, who currently leads in the polls for the Republican primary.
"The basic problem is he has a bad record empirically," said Justin Buchler, a professor of political science at Case Western Reserve University in Cleveland, according to The Hill. "The people that he endorses don't have a particularly great winning record."  
In Alaska, Trump endorsed Sarah Palin for Congress, an endorsement that is already having the effect of fracturing the Republican Party. Trump has a way of getting Republicans to fight with each other, and both he and Palin run hard against what they see as the party establishment. Ironically, it was that party establishment that boosted her candidacy in 2006, when she won the primary for governor against Gov. Frank Murkowski. That Republican establishment also supported Trump in 2016 and 2020.
"He is divisive. He incites Republicans to fight with each other instead of the Left. He's not trying to make peace with the party," said one Republican Party leader.
Palin, who has just a 31 percent approval rating from Alaskans, polls even lower than President Joe Biden.
If Trump does come to Alaska this summer for a rally — and he has promised to do so for candidate Tshibaka — he would demand one big event that includes Tshibaka, Palin, and Dunleavy. With Palin and Trump on the stage, Dunleavy and Tshibaka could be overshadowed by the star power of the former president and Palin, the most famous person in Alaska history. The media would focus all of its attention on Palin, with news reporters flying in from across the country to cover the spectacle of Trump-Palin.
For campaigns, this will be the trickiest of situations to pull off for the other Republican candidates, who rightfully don't want to be in another campaign's shadow.
Alaska political observers say that Trump's endorsement of Palin actually hurts Tshibaka the most, because it has taken away some of the focus on what was the most watched race in the country — Murkowski vs. Tshibaka. If that is true, then Trump's backing of Palin, who only has a 31 percent approval rating among Alaskans, would weaken his attack on the person he most wants to see gone from the Senate — Murkowski.
As for Trump's own goals to return to the White House in 2024, these endorsements and the outcomes may provide some of the most important data of all to his team: Is Trump still viable as presidential material?