By DANIEL SMITH
There has been too much tinkering with our election systems over the last few years.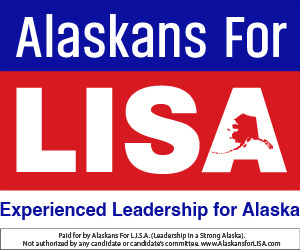 "If it's not broken, don't fix it." For those of us who are mechanically inclined and especially those of us who are not, we can identify with that tried-and-true saying.
Our election system is supposed to be that reliable vehicle that get us from point A to point B and never lets us down. It is supposed to help us keep our elected officials in check and help us get the people that we feel represent us best into office.
The current election system in Anchorage and the state is, however no longer serviceable and most certainly requires fixing. We need to push it into the garage, run diagnostics, and get busy with repairs.
If we do not make the necessary repairs to our election system we will find our election vehicles broken down on the side of the road, out of service with no available parts to reestablish the republic.
Let's run through a quick diagnostic and check for specific, obvious problems.
There appears to be an indicator light on the dash says "mail-in system is fouled." A quick read of the trouble shooting chart in the service manual says "Check for stolen voter information. If positive voter identification cannot be guaranteed, return to in person, paper ballots with voter identification." 
That seems simple enough.
We have had voter information hacked and stolen twice now (that we know of) from State systems, on a large scale. The Municipality of Anchorage gets its voter role information from the State. That could be one problem.
The Anchorage Assembly gave us the universal vote-by-mail system out of the kindness of their hearts. There was no problem with the previous voting system. We did not vote for the change-over. The assembly simply decided to fix something that was not broken. 
Remember we are cautioned against this. The repair manual says, "If questionable unwanted aftermarket parts have been installed, check for a bad universal mail in ballot system that has likely plugged the integrity filter." It goes on to say, "In the event of the Covid-driven hysteria which can cause abuse of mail-in ballots, remove and replace with original parts. See also: Reinstate witness signature requirements, which may have been illegally altered by the judicial branch of government system. This only applies to for those limited absentee ballots that might be requested by voters."
The next column of the trouble shooting chart is titled, "If election system starts but won't run."
We seem to still be able to cast ballots, but counting seems to take much longer now for some reason. There are a number of solutions offered here. The first one might be the easiest to try.
The election repair manual says, "Try decentralizing the vote counting mechanism." It quotes an infamous vote repair technician Joseph Stalin who said, "It doesn't matter how many people vote, only who counts the votes." 
There could be a malfunction when trying to vote for an Assembly seat when the votes are counted by elections officials who are under the direct supervision of the Anchorage Assembly itself.
When paper ballots were counted by hand at a multitude of different precinct sites, and then reported to election central, this was never a large-scale problem. It was not broken. This part of the vehicle had lots of miles left on it and did not need to be replaced.
Still having trouble gaining faith in your rough-idling election system? Read the line under other possible causes. "Your election vehicle may not be compatible with modern digital components. Check for faulty vote counting machines." This component is the proverbial black box. Only a very select few know how it works and what kind of computations go on inside this thing. Specialists with proprietary diagnostic tools are required to service this piece of the machine. We are making these repairs ourselves and do not want to be reliant on technicians of questionable character. As it turns out, the vehicle will run just fine without a Dominion vote counting machine or similar device. Simply remove it and dispose of in the hazardous waste bin.
If your election vehicle creates excessive smoke and mirrors, you may have a faulty Ranked Choice Voting muffler bearing. You cannot go down to the auto parts store and purchase a new replacement RCV. Just as with blinker fluid, it does not exist in a properly maintained voting vehicle. 
Ranked Choice Voting does not subscribe to the one-person, one-vote requirement of proper election system maintenance. It is convoluted and results in unwanted outcomes, even if somehow magically installed correctly. The election owners' manual says, "You may have missed some scheduled maintenance, but in no case let your politician sell you a Ranked Choice Voting System."
There are too many issues with the state of our current election system that lead some to believe their vote does not matter. Three minutes of public testimony at an Assembly meeting, for example will not change the course of events if Assembly persons have made up their mind and have an agenda. Elections are the only real time the public gets a say in the government and its affairs.
Unless we get our election system fixed, we will be thumbing a ride and hoping that some politician will give us a lift to our intended destination. This is not only dangerous but it could be a long cold wait by the side of the road and we may end up down a very dark Marxist path, that we never intended to travel.
We can each make a difference if we start to restore the integrity of our election system one component at a time and support Sen. Mike Showers in his efforts with Senate Bill 39 to give our election vehicle a major and well needed overhaul.
Dan Smith is a lifelong Alaskan and Anchorage resident.