DEPUTY COMMISSIONERS OF LABOR NAMED
Former Rep. Cathy Munoz and Nelson San Juan have joined the Dunleavy Administration as the deputy commissioners of Labor.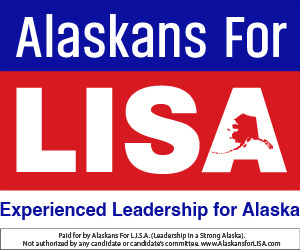 Munoz has had a life of public service. During her career in the Alaska Legislature, she worked on a number of workforce development projects, including helping establish the mining training program at University of Alaska Southeast, and acquired funding for the first mining simulator at UAS.
She prime-sponsored legislation that allows companies to make contributions toward vocational education programs and receive a tax exemption on their corporate tax liability. That provision in law led to major contributions from Greens Creek Mine to UAS's mining training program.
Munoz, born in Juneau, grew up working in the family businesses. Her father had a fish buying operation at Yakutat and later at Bristol Bay, so she worked in cold storage in her younger years. Later she operated other businesses, including the one she runs now with her husband Juan Munoz– the Rie Munoz Gallery. Her late mother-in-law was the famous Alaska artist Rie Munoz. (Pronounced Moon-yos.)
Munoz' father, Elton Engstrom, served in State House and Senate, and her grandmother, Thelma Engstrom, served in 18th Territorial Legislature in the House.
Munoz's grandfather, Elton Sr., served multiple terms in Territorial Senate and served in the second State Legislature. He died in office in 1963. He had also served as chairman of the Alaska Republican Party for 20 years.
Munoz served on the Juneau Assembly and was chair of the Finance Committee.
As a representative, she was on the House Finance Committee and chaired the Community and Regional Affairs Committee.
Deputy Commissioner Nelson San Juan is the other new deputy commissioner of the Alaska Department of Labor and Workforce Development.
San Juan spent 26 years working for the State of Alaska, 23 of them with the Department prior to his role as deputy. He has dedicated his career to Alaskan workers, employers, and the business community.
San Juan acted as the principal liaison between the Department and Alaska's Seafood Industry.
He managed and conducted numerous special employment and orientation events to recruit and fill thousands of job openings annually.
He has travelled and worked extensively with rural communities from Dutch Harbor and Nunam Iqua, to King Salmon, Bethel, Atka, Cordova, Togiak, and Emmonak. He met with a wide spectrum of agencies, groups, and organizations to promote Alaska Hire and the Department's workforce development programs.
During this period, San Juan developed a network of contacts and resources in Alaska, Washington, California, Oregon, Nevada, Arizona and other states.
San Juan has a B.A. in Economics from Adamson University in Manila (Philippines). He performs volunteer work for over 10 local non-profit and community groups, and enjoys traveling and hiking. He lives in Anchorage with his wife, Bella.