Gov. Mike Dunleavy vetoed the $525 Permanent Fund dividend, and in his announcement on Friday he surprised lawmakers by vetoing their per diem.
To get their per diem back, they'll need to restore a set Permanent Fund dividend calculation. Or they can face the wrath of voters next year.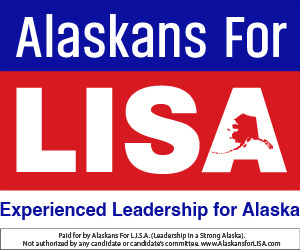 But then something happened. A budgeting error from the Governor's Office gives legislators a $4 billion bit of extra worry and another reason to argue over and shortchange the dividend.
The governor intended to veto a $4 billion transfer the Legislature had made to the principle of the Permanent Fund, but there was a scrivener's error on the budget — somebody blew it in the final, admittedly hastily reviewed budget that the governor had only hours to review and sign.
Some lawmakers don't want to allow that scrivener's error to be reversed, and so a $4 billion appropriation to the corpus of the Permanent Fund is squirreled away, off limits to solve fiscal problems, and not usable to pay a dividend or government expenses this year. Anti-dividend lawmakers are overjoyed with the oversight.
Without that veto, it makes it a lot harder for the Legislature to fulfill its promise to come up with a long-term solution for the budget in August.
Make no mistake, even after the $4 billion transfer, there is almost $20 billion available in the Earnings Reserve Account. That balance is more than sufficient for any fiduciary responsibility to keep adequate reserves in place. It does serve the narrative of the anti-PFDers, who have put almost $9 billion into the corpus in the last two years, and said they don't have money for full dividends.
The liberals are probably going to look at taxes, and blame will go both directions.
The chances of a constitutional amendment to protect the dividend are increasingly more difficult as Democrat election politics start gearing up and Democrats look for ways to hit Dunleavy with some body blows before he stands for reelection.
Not allowing the $4 billion to fall back into the General Fund will, however, also make it difficult for them to explain their $300 per diem, vs. Alaskans' $525 Permanent Fund dividend.
Read the actual per diem that each lawmaker received last year at this link
Some in the Legislature kept a social media silence about the cut to per diem. Others hopped on their social media accounts and complained loudly on Friday. For some, the per diem is a handsome benefit, while for others, it barely covers their cost of having to have a place to live in Juneau.
But it also serves as a reward for not getting work done. And a few legislators use their time unwisely in Juneau, partying excessively on that per diem.
Starting Jan, 19, 2021, the Legislature was in session for the 90 statutory days. Not able to get its work done in the law-specified timeframe, legislators blew through the deadline and stayed until the 121st day, a constitutional limit. That is something they do year after year, rewarded by per diem for every day they stay in session.
They still could not provide a budget.
The Legislature went another 30 days of special session, and toward the end, lawmakers still could not come up with a legal budget, because it didn't have an appropriate effective date. Some legislators argued that it didn't need one, but they finally made the budget legal and the government did not shut down.
They handed the governor an error-ridden budget at the 11th hour. He and his team had just hours to look it over and send back errors they found to the Legislative Finance Office, allowing the Legislature to get its errors corrected. In the end, it was his own team's oversight that led to a $4 billion lock-up of funds into the Permanent Fund. The Legislature is saying, "Thanks for letting us correct our budget errors, but also "No do-overs" to the governor.
All that time in Juneau, the per diem racked up. The total a legislator could have made in per diem so far this year? It's north of $45,300, untaxable.
That's in addition to the $50,000 taxable income they earn as salaries for being legislators. According to the House's estimate, the per diem for this fiscal year will total $2 million.
Few Alaskans realize that legislators get rewarded for not doing their work in the time allowed by law.
Read Legislators received up to $8,700 in per diem for special session
Particularly awkward is that legislators have changed their per diem laws three times in 15 years, and most recently passed a law that said they could not get per diem after the session ended if they had not passed a budget on time. They just ignore that law an award themselves the money retroactively.
Gov. Dunleavy has given the Legislature the opportunity to get it right in August. They can override some or all of his vetoes, they can even restore their own per diem with an override. But the $4 billion that just went into the corpus of the Permanent Fund? That is a five percent gain for the Fund, and is going to make August extremely difficult.