At Brave Conversations, host Leigh Sloan is cultivating a community of people who meet monthly to learn from those who think differently on a variety of topics. The purpose is to have conversations that are controversial, but civil, and create better thinkers and better communicators– ultimately creating a better community.
Brave Conversations takes place Jan. 23 at 6 pm in the meeting room of Coffee and Communitas coffee shop, 12100 Seward Highway, south of the 120th Street intersection, (which is south of the Klatt Road stoplight.)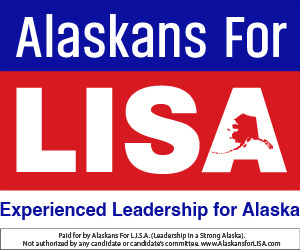 The first half of the evening, the event features a "Red Chair Challenge," which is a topic that two invited guests speak on two different sides of an issue. Questions from are taken at the end. This month's topic is abortion.
The second half of the evening, participants can take part in a game designed to match you with your conversational "sharpener" who will stretch your perspective on one or more topics. You'll have a discussion guide to help you along.
The goal in our conversations is not to win but to learn. Come with a friend and an open mind. Learn to enjoy honing the art of this kind of constructive, face to face conversation.
People of all viewpoints are welcome and encouraged to attend. "All we ask is that you maintain a respectful and non-disruptive demeanor," Sloan says.
Beverages and food are available for purchase in the coffee shop, while the event itself is in the inner room of the building. Ask the barista to point you to the right place.
Brave Conversations typically meets every fourth Thursday of the month.
More information can be found at the group's Facebook page.