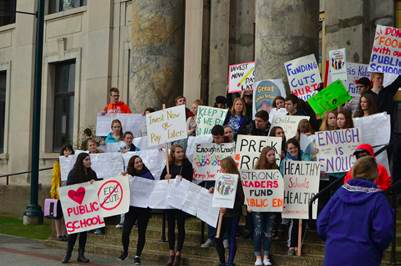 BUT #17 MAY BE NOT SO GREAT FOR STUDENTS
If you listen to the NEA Alaska or Great Alaska Schools, the 49th State is a terrible place to be a teacher, and educators are leaving the profession in droves.
But according to WalletHub, Alaska ranks among within the top 20 states for teachers, in terms of their pay, opportunity and work environment.
WalletHub ranks North Dakota the best place for teaching in the U.S., but Alaska ranks #17, scoring #1 for opportunity and competition, but #45 for academic and work environment.
Alaska comes in right behind New York for having the highest teacher salaries in the nation, with elementary school teachers earning an average salary of $73,220 and secondary school teachers banking $80,550 per year.
Arizona ranks #51 on the WalletHub list (District of Columbia is included in the rankings).
View the entire list of states and how they rank at this link.
See the methodology for the ranking at this link.
It may be in in the top third for teaching opportunity, but earlier this year, WalletHub ranked Alaska as #42 in the "Best to Worst" school system list, with Massachusetts ranking at #1 and New Mexico ranking at #51.
Tim Parker, president of NEA-Alaska, wrote this month that, "We provide an excellent public education to nearly 140,000 Alaska students in nearly every community in our state." And he defended the poor outcomes on standardized tests, as Alaska students sink further and further behind, and come in nearly dead last among states on the Nation's Report Card.
"Educators know that there is much more to students than a single test score. We continually use dozens of different assessments to find out whether students are learning. Unfortunately, some politicians and pundits will use these test scores to score cheap political points and use a broad brush to paint our whole system of public schools as failing. Alaska's parents and educators know that one test in April doesn't define our students," Parker wrote in defense of the outcomes. "If we want to maximize learning for every student, we must work together to build our public schools into the stable, healthy centers of every Alaska community. That's a score that matters."