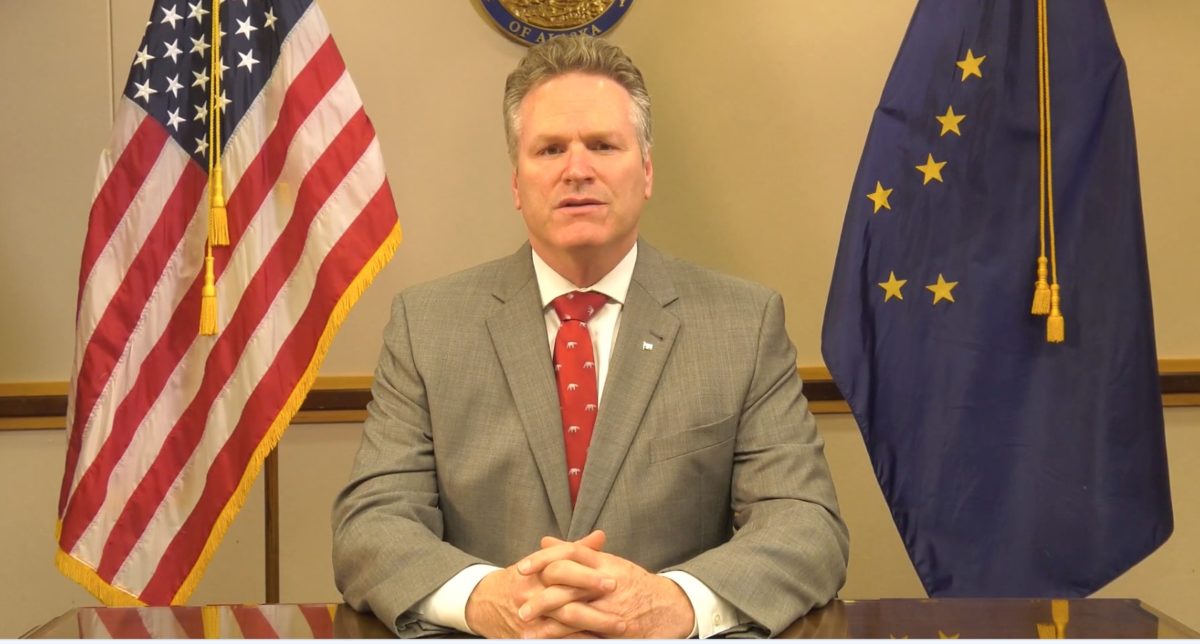 "That didn't go over all that well," wrote one Alaskan to Must Read Alaska this morning, after Gov. Mike Dunleavy used the Emergency Alert System on Thursday to plead with Alaskans to stay home if at all possible due to a rising number of COVID-19 cases in the state.
That Alaskan wasn't alone. Other Alaskans reacting to the Emergency Alert System message said they were not amused. They thought an earthquake had hit or a bomb was on the way.
Instead, Dunleavy is ordering all of the State workforce who can work from home to do so, and asking the public to voluntarily hunker down for three weeks.
In the past seven days, 2,791 Alaskans have tested positive for COVID-19. Dunleavy warned today that the health care system in Alaska, including the medical workers caring for COVID and non-COVID patients, are at risk of being overloaded.
When possible, private businesses should ask employees to work from home, he said. People should return to curbside pickup, where possible. They should rethink how they are going to do Thanksgiving celebrations, he said.
His request was not a demand, but generally the Emergency Alert system, which sends an alarm to people's smart phones, is only used for imminent threats.
Yet it's an example of how officials are having to deal with COVID fatigue. Dunleavy is facing a growing segment of Alaskans who have become numb to all the orders and lockdowns, and he is having a harder time getting through to them about how important it is for them to keep a physical distance from those not in their immediate households. They've been doing this for months, with lockdowns and changing emergency orders that are crushing many private businesses in Alaska.
Since March, 20,207 cases of COVID-19 have been diagnosed among Alaska residents, and 96 deaths have been reported associated with the highly contagious virus.
Some Must Read Alaska readers were apoplectic about getting the emergency alert in their phones at 10 am, and reached out to this publication with their immediate, unvarnished comments.
"What the EFF?" wrote one reader.
"Final nail in his coffin," wrote another.
"People are upset. They've lived through wars and are swearing about this," wrote another.
"Holy crap he just gave me a heart attack with that emergency cell phone message," wrote one Alaskan. Another said that it gave her a panic attack.
Of the hundreds of messages written on the response panel on YouTube, none were favorable. Many said they thought they were going to have a heart attack.
The message was also broadcast on YouTube and has been viewed by over 17,000 people as of this writing.
"My job as governor is not to tell you how to live your life. My job is to ensure the security and safety of Alaska. I can't do that without your help," he said.  "I'm asking you to reach deep for the next three weeks. If we can buy time for our critical workers – if we can keep our systems operational – we can avoid being forced to take further action. But if we cannot reduce the spread of this virus, we reduce our future options for how to proceed. No matter what you believe about the virus, the facts are the facts. Hospitalizations and sick healthcare workers are reaching untenable levels. We must act together now while we still have choices."
Dunleavy announced the following executive actions:
On Monday, November 16, the new 30-day COVID-19 disaster declaration takes effect.
Effective immediately all State employees are to work from home whenever feasible.
Face masks and social distancing are mandatory at State work sites for both employees and visitors.
Earlier this year, the Municipality of Anchorage used the Nixle alert system in a similar way, and it was poorly received by many who believed it was a misuse of the Nixle subscription service, which is supposed to relate to emergencies or to get the public's help in locating missing vulnerable individuals.