MEANWHILE, PRO-LIFE ALASKA ISSUES ITS ENDORSEMENTS — INCLUDING RAUSCHER
Former Lt. Gov. Loren Leman on Monday wrote a letter to Pat Martin, head of Alaska Right to Life, admonishing him for Martin's scorched earth tactics against pro-life candidates.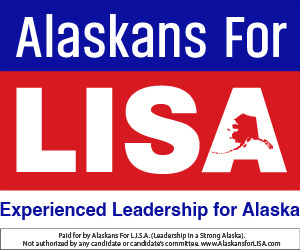 Leman, a well-known pro-life advocate who has championed the rights of the unborn his whole life, wrote specifically in defense of Rep. George Rauscher, who is running for his seat in District 9, which stretches from the Mat-Su Valley to Valdez and Whittier.
Rauscher lost the blessing of Martin and Alaska Right to Life, which has said he isn't pro-life enough.
Working with Rep. David Eastman to oust Rauscher and install Pam Goode in the District 9 seat, Martin sent out mailers revoking its endorsement of Rauscher, as well as killing the endorsements he had earlier given to Rep. Cathy Tilton and Rep. DeLena Johnson, both Valley Republicans.
The Alaska Right to Life group had already revoked its endorsement of Sen. Cathy Giessel, another staunch pro-life advocate. None of these legislators have done enough, Martin said.
Only David Eastman retained the endorsement of Martin's group.
However, the Alaska Right to Life organization is no longer affiliated with the National Right to Life organization.
The new affiliate for National Right to Life, called Pro-Life Alaska, has given Rauscher and other advocates for the unborn its endorsement; the entire list is at the bottom of this story.
LOREN LEMAN LETTER MADE PUBLIC
To: [email protected]org
Sent: Monday, August 20, 2018 10:05:36 AM
Subject: Senseless attacks on our friends
Pat,
I am very disappointed in your message.  George Rauscher is our friend in the pro-life battle. When we attack our friends, we defeat ourselves.  Your baseless attack reminds me of similar criticism directed at me when I was first elected to the House nearly 30 years ago. Even though I was one of 14 members in the minority in the House, the Alaska Right to Life leader said I wasn't doing enough.  He later apologized to me–and I believe the record is clear that I was one of the most effective pro-life legislators in Alaska during the past three decades.  No, we haven't yet won the battle, but it hasn't been for lack of trying.
If you are trying to demonstrate that you can defeat a strongly pro-life legislator who doesn't do things exactly your way, you just might.  But think hard about who the district will have as a replacement.  Your strategy is flawed.
Loren Leman
PRO-LIFE ALASKA ISSUES 2018 ENDORSEMENT LIST