Alyse Galvin, who ran on the Democrats' ticket in 2018, is asking her supporters if she should give it another try after her losing to Congressman Don Young, 149,779 to 131,199.
In a letter sent by email on Wednesday, her subject line was "2020?" She asks people to take a short survey to help her decide whether running for office is right for her in the coming big election cycle.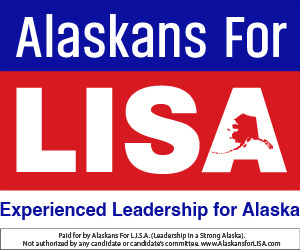 Galvin, the co-founder of Great Alaska Schools, raised $1.2 million for her campaign in 2018. The Alaska Democratic Party embraced her, although she ran in the no-party category.
She has reason to hope: She did better than the last Democrat who ran against Young. Steve Lindbeck took 36 percent of the vote in 2016, and Don Young won over 50 percent, even with a Libertarian to his right peeling off 10 percent of the vote.
But the longer she was on the campaign trail, the more leftist she became or showed herself to be.
The icing on the cake may have been when she admonished viewers of one of her videos to not use gender pronouns like "he" or "she," but to use "they" to refer to other people. And then there was the infamous drama-queen moment when she threw a fit over Don Young's handshake.
[Read: Alyse gets her radical on in Oakland]
Her letter and survey shows she's been working on a rematch for awhile:
Dear Friends,
Thank you so much for being involved in my last campaign! I'm writing to ask a favor that will take just a few minutes of your time.
Since the 2018 election finished, I've been busy reflecting on how we can be better. How Alaska can be better, how my community can be better, and how my team and I can be better. 
I've been busy working on ideas and solutions, raising my voice as a citizen advocate, but now I really need your input. As I consider whether to launch a 2020 run, will you help us evaluate how we could make our campaign better by answering seven quick questions?
This movement doesn't happen without you. Thanks again for being involved. 
Gratefully,
Alyse