By ALEX GIMARC
President Biden signed the infrastructure bill on Tuesday, surrounded by gleeful Congress critters, including Alaska's very own Congressman Don Young.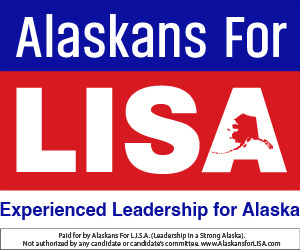 While the entire Alaska delegation voted in favor of the bill, I want to focus on the pair that is up for reelection next year, Lisa Murkowski and Don Young.  Both incumbents posted glowing press releases touting their support for the massive piece of legislation.  
While there are many infuriating provisions in the bill, for me the worst is funding for broadband internet in the Bush.  This is Alaskan Delegation pork at its worst.  Rural broadband is going live worldwide next year via Elon Musk's Starlink.  The only thing federal broadband money will end up doing is being recycled back into campaign donations for people who supported it, in this case, Lisa and Don, which may be the point.
We have come to the point in our state history that Lisa and Don have focused on little more than the amount of free money they can appropriate for Alaska. Every single other policy issue is either ignored or traded away in return for a bit more cash.  You would think with a 50-50 split in the U.S. Senate and a 5-seat Democrat majority in the House, Lisa and Don would be able to leverage their power a little better. Sadly, as long as Lisa can prattle on about renewables and Don can support his union buds, there is no interest whatsoever in using that power to pursue anything other than their personal unicorns and other shiny objects.  
So, what else was in the infrastructure bill?  The text of the bill can be found at this link.  It is quite long and complex.  An in that length and complexity, you can bury a lot of ugliness.  Sean Moran writing in Breitbart did a pretty decent review over the weekend.  Also important is what was NOT in the bill.  We'll talk about that a bit also.
There is no funding for a border wall with Mexico. Given unvaxxed illegals flooding across the Mexican border, some of whom end up here in Alaska, you would think Lisa and Don would care. There is more money for processing of the 2 million illegals who crossed the border in 2021.
Now that the Biden administration has figured out that all they have to do to shut down a pipeline, any pipeline, is to pull its operating or environmental permits, you would suspect that TAPS is now at risk. While there is language ordering a study of the cancellation of Keystone XL, there is no order to restore its permits. No removal of the ability of this administration to pull permits on a whim.
There is a mandate to install DUI breathalyzers in all vehicles by the 2026 model year. You don't blow, you don't go. There are a lot of other ways to drive under the influence than alcohol these days (marijuana, drugs, prescription drugs, etc).
There is funding for a pilot program to figure out how to tax people based on the number of miles drive.
It contains a provision to allow federal agencies to bypass "buy American" rules if they think it will increase costs. Sounds like a payoff to the CCP to me.
It includes a provision to start regulating crypto currencies as a payoff to existing Wall Street investment houses and bankers.
Broadband money will be doled out based on race and ethnicity, with rural whites sitting in the back of this particular bus.
While there is money for roads and bridges here in Alaska, there is no money for either a Knik or Turnagain Arm bridge.
The bill has been variously described as Green new Deal Lite with all the attendant electric vehicle, zero emissions, and carbon reduction provisions. It also appears to ensconce into federal law the underpinnings of CRT, using the word "equity" at least 64 times.
Despite Lisa and Don's victory lap, this is a pretty ugly piece of legislation, one that they are proud of. Governance as a simple money grab is not doing Alaska any favors. From here, it is long past time to install people in office with other priorities. Our opportunity to do that is next year.  It's time to take it.
Alex Gimarc lives in Anchorage since retiring from the military in 1997. His interests include science and technology, environment, energy, economics, military affairs, fishing and disabilities policies. His weekly column "Interesting Items" is a summary of news stories with substantive Alaska-themed topics. He was a small business owner and Information Technology professional.