By ALEX GIMARC
Public anger at the Anchorage Assembly metastasized this week with pubic testimony on Assemblyman Chris Constant and Assembly attorney Bill Falsey's attempt to rewrite the Municipal Charter to allow them to remove an elected mayor on a whim.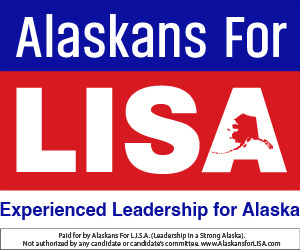 As with masking and Covid-19 foolishness the last couple years, testimony didn't go all that well for the Assembly. Who knew their action would trigger a negative reaction from the general public?
Their problem is that the Municipal Charter already has a technique to remove mayors who are not up to snuff, a technique interestingly enough not considered by the current majority when our pants-less former mayor, Ethan Berkowitz, opted out of the political gene pool last year. That technique is called a recall. It is not often used. It works even less often, as two sitting Assembly members can attest to.
From here, AO 2022-60 is an attempt to rewrite the Muni Charter without the benefit of public participation or approval. Why the rewrite? Apparently Constant, Falsey and the other members of their merry band found a problem not apparent to anyone else in the 102-year history of Anchorage or 47-year history since merging with the Anchorage Borough.
Someone should be in awe of their legal knowledge and their proposed solution. I'm not. It appears many of my neighbors aren't either.
If you take a look at AO 2022-60, it allows the Assembly to remove a duly elected mayor from office on any one of a list of 12 nebulous offenses. They even throw in a get out of jail card that allows them to do their dirty deed on anything else they can come up with.
Falsey and Constant crafted the language from an existing Anchorage ordinance language that allows the Assembly to do the same thing to any member or members of boards and commissions. It's never been done, by the way, but they want to break the separation of powers between the legislative and executive to put the Assembly in charge completely. It is good to be king.
There is a form of governance where the legislature, or more properly the majority party or coalition controls the executive. That would be a parliamentary system of government. Think Great Britain, Canada, Oz or New Zealand. There are others, but these are the most obvious.
Transfer of power in a parliamentary system allows the party in power, whatever their majority comes up with, to select the executive, who serves until the party loses the next election or the majority no longer wants the executive to serve, a no confidence vote, at which point, elections are held for a new parliament, and a new (or the same) executive is chosen.
But this is their very form of government, agreed to by the people, the provinces, the judiciary, and the nation as a whole.
Here in Anchorage, the Assembly majority is attempting to install what amounts to a parliamentary form of government by a simple 8-3 majority vote, which they think will empower the current majority to remove an elected mayor, replacing that mayor with one of their own for just as long as they want that newly installed mayor to serve. If you don't believe me, look how long past the 6-month mandatory mayoral election their Berkowitz replacement, Austin Quinn-Davidson was allowed to serve.
Now, I am silly enough to believe that when you change your basic form of governance, you at least ought to make your case to the voters. Same goes with charter amendments, which this most certainly is. But the Assembly majority chooses to push it as a simple ordinance, gaming testimony and public outrage by moving the topic to the end of meetings and then gaveling out abruptly, which tells me more than I need to know about the courage of their convictions. Hint: None of either is observed.
But if the current majority proposes to play this little game, I have a suggestion.
Let them pass it. Let them remove Mayor Dave Bronson and the three minority Assembly members, replacing them with more compliant politicians. But one day, there will be a 6-5 majority in the other direction, at which time those of us on the other side of the political fence will be able to do a little housecleaning of our own. As Kurt Schlichter so wisely noted: You are really not going to like playing under your new rules.
This Assembly majority has been remarkably tone deaf over the last few years. Every single time they come up with something so awful that they trigger public outrage, they have reverted to the "sit down and shut up" mode they enjoy so much. It is up to us to stop them.
Alex Gimarc lives in Anchorage since retiring from the military in 1997. His interests include science and technology, environment, energy, economics, military affairs, fishing and disabilities policies. His weekly column "Interesting Items" is a summary of news stories with substantive Alaska-themed topics. He was a small business owner and Information Technology professional.