It's a Covid thing. Evidently Covid hit Chugach Electric hard, the utility said. Other utilities? Not so much.
Chugach Electric filed a rate decoupling request on Dec. 9, along with a request of 4.1% increase to energy and demand rates for the North and South District customers.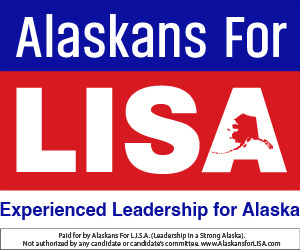 The decoupling request is intended to separate Chugach's retail and wholesale customers. 
Four days later, the Regulatory Commission of Alaska issued a Notice of Utility Tariff Filings for a rate increase, as requested by Chugach Electric. Comments from the public are due no later than Jan. 7.
The public comment period lands during the busy holiday season, when many may not be paying attention to public notices.
View the rate changes at this Regulatory Commission of Alaska link here.
The RCA notice states the Covid-19 pandemic as the reason for this rate increase request. To date, Chugach is the only Railbelt electric utility asking for rate increases due to Covid-19.
Not discussed in the notice is the $1 billion purchase of Municipal Light & Power by Chugach Electric as an underlying issue in this rate request. There is also no mention in the notice of the ballot language that specifically promised Anchorage voters "No Increase in Base Rates" as a result of the sale.
Sixty-five percent of Anchorage voters approved the measure, called Proposition 10, in April of 2018. Former Mayor Ethan Berkowitz closed the sale in 2020, and the rate increase request comes just one year later.
In the terms of the sale in 2020, the Municipality was to set aside $36 million to protect customers in of ML&P from rate increases that would come due to the sale for the first three years.
The promise from former Mayor Ethan Berkowitz was that the combined utility would create a downward pressure on price increases, and that $15 million from the sale would be used to fund an addiction treatment facility, which was a promise Berkowitz made to Providence Alaska Medical Center leaders in exchange for their support. Providence is a major user of electricity in Anchorage.
On Aug. 24, 2020, Berkowitz was quoted by his public relations department saying, "This is a time to reflect on the journey we've been on and to express appreciation and gratitude to those who made it possible. I want to thank the ML&P employees who've gone above and beyond to provide service with competitive, safe and reliable energy. Thank you to the teams that worked incredibly hard for such a long period of time to sew up the details of this complex deal. I also want to thank the ratepayers and voters of Anchorage who had the vision and persistence to implement the kind of change that will benefit our community for generations. Finally, I want to thank our partners at Chugach for staying the course and for the stewardship that they will provide to a great utility and the customers it serves."
"After more than two years of working on this important transaction, we are very pleased to see the end is in sight," said Chugach CEO Lee Thibert said in the same press release. "At a time when many are facing financial challenges brought by the COVID-19 pandemic, having one Anchorage electric utility will help bring lower long-term energy costs for our community. We appreciate the commitment and hard work of all the employees who have been working to bring these two utilities together, and we look forward to welcoming ML&P employees and customers into the Chugach family."
Thibert has announced he will retire in April of 2022, after having spent over 30 years with the utility.
Chugach's filing is part of a much broader series of issues as outlined in a July 1 Chugach filing, known as RCA Docket U-21-059.
Chugach is also requesting a waiver from the supporting information requirements for the rate changes and cost of service methods.
Comments on this Chugach Electric rate increase request must be filed with the RCA no later than Jan. 7, 2022 and must reference TA392-121 and/or TA514-8.