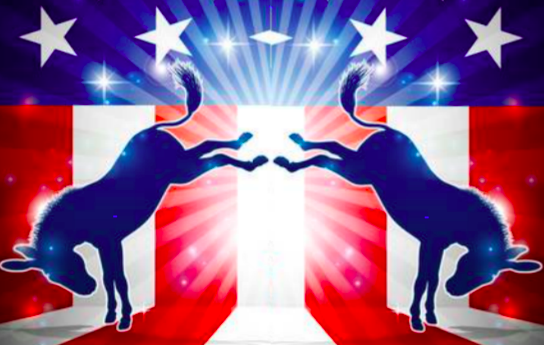 DIVISION OF ELECTION ENDS THE ERA OF TRICKERY
The Alaska Division of Elections has chosen to return to an honest, transparent ballot, one in which those who ran in the Democratic Party Primary are clearly identified as Democratic nominees on the General Election ballot.
No more monkey business by Democrats pretending to be anything but Democrats. If you run on the Democrats' ticket, you advance as their nominee. You don't get to pretend to be an independent.
The Alaska Democratic Party is, of course, furious. The executive director says the revised ballot is "bullshit."
That's because Democrats got their way under the old Walker Administration Division of Elections, which made a critical decision that played right into the Democratic Party's strategy to run fake independents instead of Democrats, and to fool the voters at the General Election.
It all started with Margaret Stock in 2016. The Alaska Democrats wanted to run her as an "independent" on their ticket for U.S. Senate in their Primary Election slot; they weren't allowed to do that because their party rules didn't permit it.
Democrats subsequently made a rule change in their party governing documents to accommodate that kind of shape-shifting candidate.
What had also gotten in their way with Stock was a State Statute that said only registered members of a party may run as candidates in that party's primary.
The matter was taken to court by the Democrats in 2017, and the court ruling was a both a victory and a disappointment to the Democrats.
Judge Philip Pallenberg, in a 33-page ruling, agreed the Democrats could run candidates not aligned with a party in their primary. But those candidates, should they win, would have to be identified on the General Election ballot as Democratic nominee.
Under Democrat Lt. Gov. Byron Mallott, the Division of Elections came up with a sleight-of-hand method for how the winner of that primary would appear on the ballot: They would have either a (U) or an (N) by their name, but would be identified as the Democrats' nominee.
This year, the Division of Elections is changing that. Whoever runs on the Democrats' Primary ballot will be their nominee. After all, the Division of Elections can't keep up with all the party-changing ways of the Democrat-Independent candidates. A candidate could, in fact, change his or her registration after the primary and really confuse the voters and the Division of Elections, which is charged with making things fair and clear.
Democrats in Alaska are running more fake independents all the time.
This year, for example, they're running both Al Gross for U.S. Senate and Alyse Galvin for U.S. House as charade independents endorsed by their party.
The Democrats wanted them to appear on the General Election ballot with as little of the stink of the Democratic Party as possible, in hopes of attracting the big pool of undeclared voters.
The Democrats could sue, but they'd run up against the 2018 Supreme Court ruling, which did not accept a proposed ballot design of the Democrats.
Judge Pallenberg had noted that the Democrats' suggested ballot would serve to trick voters via bait-and-switch tactics.
"If the law actually required this ballot design, I would find that such a ballot design created a significant potential to mislead or confuse voters. The State has a legitimate interest in preventing a party from engaging in such a bait and switch," he wrote.
Pallenberg continued, "I thus conclude that, if the law permits the Democratic Party to nominate as its candidate a nonaffiliated candidate, AS 15.15.030 requires that the general election ballot must inform voters that such a candidate is the nominee of the Democratic Party."
He also wrote about the burden on the director of the Division of Elections to "prepare all official ballots to facilitate fairness, simplicity, and clarity in the voting procedure, to reflect most accurately the intent of the voter."
"Similarly, the court believes the law permits – and likely obligates – the director to make clear to primary election voters which nomination is being sought by a nonaffiliated voter who runs in a party primary. Sufficient care on the director's behalf will ensure that voters in both the primary and general elections are fully informed about exactly who it is they are voting for."