The State Division of Elections has been a hopping place today. Some of the recent filings listed here were expected, others not so much.
Among highly anticipated actions is whether Gov. Bill Walker and Lt. Gov. Byron Mallott will officially withdraw from their petition for the General Election and formally file in the Democrats' primary, as they announced they would earlier this month. So far, there's been no sign of the two, although the governor has returned from China.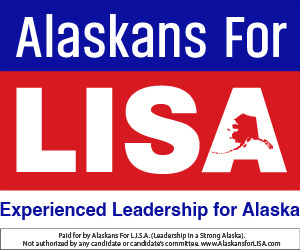 It appears Walker/Mallott are strategically waiting to see if Mark Begich files for governor and, if so, who might also run for lieutenant governor as a Democrat. If Begich jumps in, Walker/Mallott would still have the option to go straight to the General Election.
Also not filed for the primary with the Division of Elections is Scott Hawkins or Mike Chenault, both who have registered to run for governor with the Alaska Public Offices Commission and who are running active campaigns.
Republicans Mike Dunleavy and Michael Sheldon have both qualified for the ballot with the Division.
Here are some candidates who filed:
Senate Seat A – Sen. Pete Kelly now posted on Division of Elections' web site as a candidate for his Senate seat, but his challenger, Rep. Scott Kawasaki has not yet filed with the Division, although he has with the Alaska Public Offices Commission.
Senate Seat I – Jim Crawford, a Republican, has filed for the seat being vacated by Sen. Berta Gardner. It's a district that covers much of midtown Anchorage from Spenard to the U-Med District.
Crawford has a long history with the Alaska Republican Party and politics in Alaska. He served as chairman of the party, was a delegate to the 2016 Republican National Convention, and was the chairman of the Trump campaign for Alaska. He'll face Elvi Gray-Jackson, a Democrat in a district that leans left.
House District 9 – Valerie Delaune, a Democrat, has filed for the seat now occupied by George Rauscher. Another Republican has filed for that seat: Pam Goode.
House District 13 – Danyelle Kimp, a Democrat, has filed for the Eagle River seat being vacated by Rep. Dan Saddler as he runs for Senate seat G. Craig Christenson, a Republican, had filed for the seat several weeks ago.
District 18 – Harriet Drummond, a Democrat incumbent, has filed for her midtown seat. She faces Anthony Lekanof, a Republican who filed earlier. Many had wondered why Drummond had not filed, but she cleared up the mystery by doing so today.
House District 22 – Jason Grenn, nonpartisan, finally filed a nominating petition for his current seat for Southwest Anchorage area, which means he intends to go to the General Election and skip the primary, as a man without a party. The question had been whether he intended to challenge Sen. Mia Costello, but he may have answered that question today, unless he is pulling the old last-minute "switcharoo" trick on her.
Liz Vazquez has also filed for House District 22. She is the Republican who was unseated by Grenn. Her primary opponent, Sara Rasmussen, has filed already, and Dustin Darden, a Democrat, has filed as well.
House District 29 – Wayne Ogle, a Republican, has filed for the Kenai seat being vacated by Mike Chenault, who is running for governor. Ogle will face Ben Carpenter in the Republican primary. Shawn Butler is the Democrat in that race.
Carole "Kitty" Hapner filed for U.S. House as a Democrat. She lives in South Dakota. In other curiosities, former Rep. Zach Fansler had filed officially with the Division of Elections and has not withdrawn, even though he was forced out of the Legislature. Tiffany Zulkosky took his place as a representative and has announced her run.
Another pending curiosity is why Rep. Chris Tuck, a Democrat, has not filed for his seat representing House District 23. Connie Dougherty and Forrest McDonald have both filed with APOC and the Division of Elections; both are Republicans.
Candidates must file by 5 pm June 1 and withdraw by July 2, if they don't plan to be on the primary ballot.