By ANCHORAGE DAILY PLANET
We noted with more than a little interest a headline over a story about Anchorage Assemblyman and mayoral candidate Forrest Dunbar that said he wanted to get the city "back on track."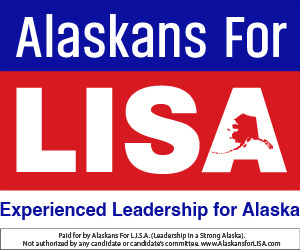 Dunbar, one of 15 candidates vying for the city's top executive post, is an odds-on favorite with the usual suspects on the political Left, and, of course, the city's unions, whose political action committees invest where they think the money will do the most good. An acolyte of disgraced former Mayor Ethan Berkowitz, he is a blue as blue can be, even saying he believes the U.S. Constitution is "shot through" with racism.
Over the past few years, the city's small businesses have taken a terrible beating because of city-ordered shutdowns and interminable COVID-19 emergency orders the Assembly – Dunbar included – refused to block or end. The city's homeless problem has gotten only worse. The Assembly adopted a gasoline tax, and a new alcohol tax went into effect with the Assembly's blessing. The list goes on.
He appears to believe throwing more money at problems is the answer. One of his campaign aims to is to distribute federal handouts more quickly. Nothing about tax breaks. Nothing about improved services or more efficient government. Nothing about making Anchorage a place that works, with more opportunity and less crime.
And he says he wants to get the city "back on track."
Our question: Isn't he – along with the other Left-leaning members of the Assembly – largely responsible for the city wandering off track in the first place?