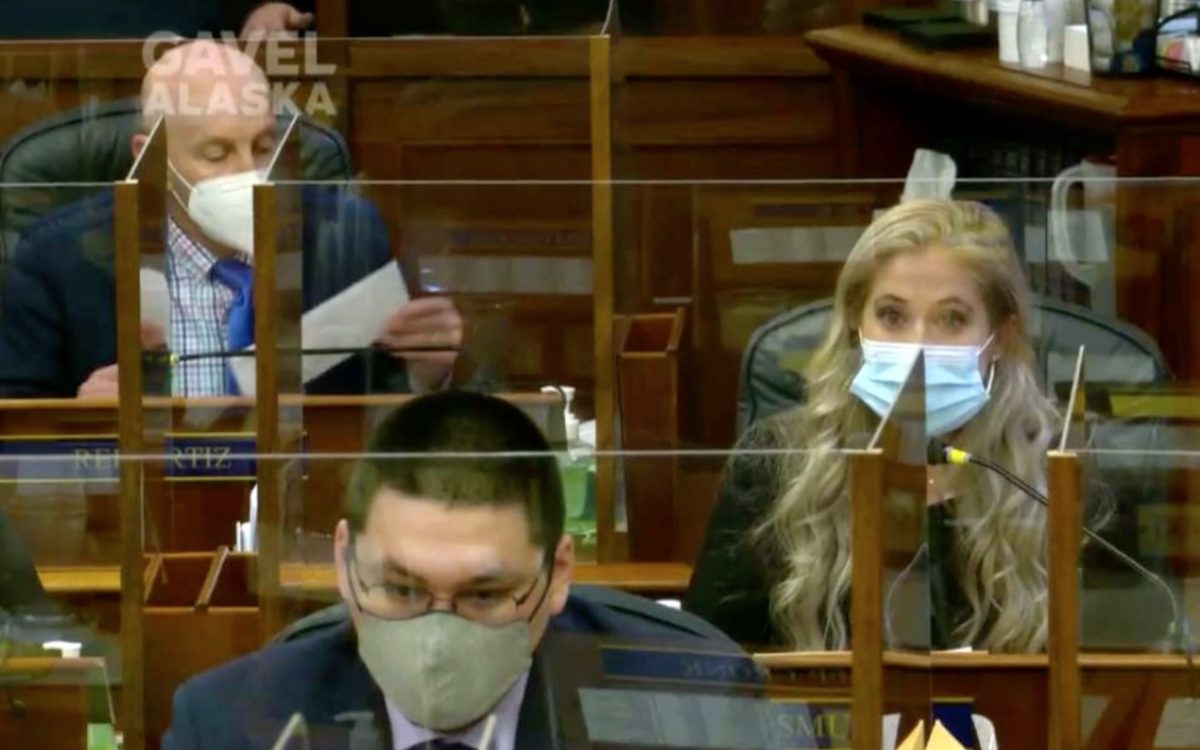 Rep. Zack Fields has apologized to Rep. Sarah Rasmussen for sexist comments he made about her body on the House Floor on her birthday. He now has apologized to all of Alaska.
That was the main event in the Alaska House of Representatives on Friday, although there were side bits.
Rasmussen choked back tears as she talked about how difficult it is to raise children to be respectful and how important respect is, citing Gov. Sean Parnell's Choose Respect campaign.
Rasmussen said it is important that everyone can feel safe in their lives, their communities, and their workplaces.
Both Fields and Rasmussen had just returned from a week of quarantine after they were exposed to Covid-19 in the Capitol.
Behind Rasmussen, Rep. Dan Ortiz of Ketchikan wrote letters and stuffed envelopes, evidently bored by the drama taking place in the House today. It was unclear if the retired schoolteacher was even listening to Rasmussen's remarks.
On Wednesday, House Speaker Louise Stutes tried to move the Sense of the House criticism of Fields to a committee, where it could be killed. As of late Thursday, Fields was still trying to remove any reference to him in the Sense of the House, through amending the resolution.
Republican Minority Leader Cathy Tilton did not grandstand on the House floor, but stood strong in saying the matter needed to be voted on. By so doing, she drew a contrast between the behavior of the Republican minority and the Democrat majority. Some in the House Chambers may have understood the contrast, although many are new.
In May of 2017, Rep. Ivy Spohnholz called for the Sense of the House against statements made outside the building to the media by Republican Rep. David Eastman. Her words then were, "When one member of this body brings the dignity of this institution into question, it's incumbent upon all of us to act to defend it." 
Ivy Spohnholz' Sense of the House speech condemning Rep. Eastman
This year, Spohnholz was quiet when her fellow Democrat made a crass statement about Rasmussen's body on the House floor.
In the end, the "Sense of the House" was accepted unamended and unanimously today, an act meant to criticize the jokey comments Fields had made about Rasmussen 10 days earlier.
And with that, the House adjourned for the day.