HER FLOOR SPEECH CONDEMNING DAVID EASTMAN IS ONE FOR THE AGES
In light of House Speaker Bryce Edgmon refusing to allow a "Sense of the House" vote to be taken on the behavior of Rep. Ivy Spohnholz, who accused a 78-year-old retired judge of sexual harassment, Must Read Alaska reviewed the historic lecture Spohnholz gave on the House floor on May 10, 2017, as she moved to censure Rep. David Eastman.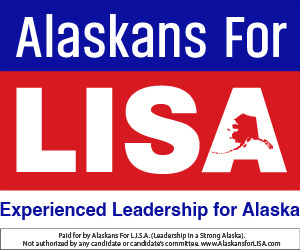 "When one member of this body brings the dignity of this institution into question, it's incumbent upon all of us to act to defend it," she started. She was speaking of Eastman's remarks made to the media regarding abortion in Alaska and how he felt it was misused.
"The representative from the northwestern part of the Mat-Su calls in to question the character of women from rural Alaska, and offended the dignity of all women," she spoke, as the 39 other members quietly listened. She quoted Eastman as saying that women from rural Alaska were using pregnancies to get government-paid trips to the city for abortion.
"When asked for evidence, he provided none," she said. "He's continued to refuse to show remorse for these damaging and hurtful words."
"As humans we all have failings, none of us are perfect…but a leader takes responsibility and ownership for those mistakes. They acknowledge the impact that they've had on somebody else's life. Their feelings. Their thoughts. They own them and then they make amends. How is it that you make amends? You don't say, "I'm really sorry that that made you feel bad." That is not making amends. Making amends needs to go a little bit further. You don't say "you're welcome to come to my office and share your concerns and your perspective with me. That is not making amends.
"When you make amends you are internalizing the hurt that you inflicted on someone else. You have to go to the people that you've hurt, and you have to try to understand their perspective—and make it right. It means to mend, to put things back together again…that is what adults do. And as elected officials we have an even higher standard to meet. We're supposed to be exemplars in our community.
"We are leaders. We are not the bare minimum. We are supposed to be rising above and setting an example for our colleagues and our constituents all across the state. …We are elected officials. We are leaders in our state. It is time to act like that and to call out bad behavior for what it is, and it is unacceptable…
"If you can get a majority of people to feel strongly enough about it that they think I deserve censure, then you should call me out on that behavior."
[Watch Rep. Spohnholz speech in its entirety here.]
On April 17, Spohnholz rose in a joint session of the House and Senate and accused retired Superior Court judge Karl Johnstone of sexual harassment, charges she said she received from "more than two women." She has since told the media it was "two women" but her floor speech was enough to sink Johnstone's confirmation to the Board of Fisheries moments later, when the vote was taken.
[Read: Gov. Dunleavy apologizes to Johnstone for "appalling" behavior of lawmaker]