Following on the heels of District 15's announcement Tuesday, District 14 Republicans on Wednesday endorsed Kelly Tshibaka for U.S. Senate.
It appears to be a trend in the Republican Party in Alaska. The Alaska Republican Party in March censured incumbent U.S. Sen. Lisa Murkowski and, by a vote of 77 percent of the State Central Committee, vowed to seek a replacement and ask Murkowski to not run as a Republican. Three weeks later, Tshibaka announced she would run for the office.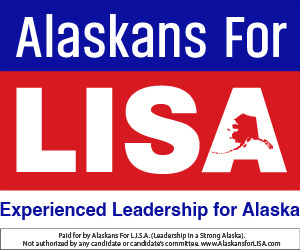 This makes nine establishment Republican groups that have endorsed Tshibaka: District 21, 12, 14, 15, both Kenai Republican women's clubs, both Mat-Su Valley Republican women's clubs, and the Anchorage Republican Women's Club. Also, Bikers for Trump, and former President Donald Trump himself.
District 14 is a conservative part of the state, centered in the Eagle River area of Anchorage. In 2016, when Lisa Murkowski ran for re-election, Joe Miller did surprisingly well in this district running as the Libertarian candidate, getting two votes for every three votes Murkowski won; Miller took 2,145 votes, while Murkowski took 3,004 in the district that year; Margaret Stock, the Democrats' "independent" candidate, was also on the ballot that year, getting just 611 votes out of the district.