Republican U.S. Senate candidate Kelly Tshibaka was substantially out-raised by Sen. Lisa Murkowski in the second quarter Federal Election Commission report.
With support from political action committees, Murkowski was able to book $1.1 million into her campaign war chest between April 1 and June 30, while Tshibaka, the upstart challenger who has the support of the Alaska Republican Party, raised $750,000 in her first 94 days.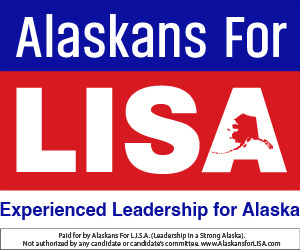 But where the money is coming from for each of the two leading candidates is telling: Half of Tshibaka's donations came from donors in Alaska, and 45 percent of the donors to her campaign gave under $200.
Conversely, just 3 percent of Murkowski's campaign contributors gave under $200, and political action committees accounted for 24 percent of her fundraising.
In dollar amounts from Alaska donors, Tshibaka raised more than four times as much as Murkowski – a margin of about $266,000 to $63,000.  
Among the under-$200 donors, Tshibaka brought in $244,000 to Murkowski's $29,000, or almost eight-and-a-half times as much.
"These limited financial contributions from Alaska show that Murkowski has lost the support of Alaskans," her campaign stated in a press release.
Tshibaka has already raised more money than Murkowski's three top opponents each raised for their entire campaigns in 2016.

Some of Murkowski's big donors include Maine Sen. Angus King's leadership PAC, Amazon, Americans for Action on Climate Fund, AT&T, BAE Systems, Blue Origin, Mitch McConnell's Bluegrass PAC, Capital One, CVS, Discover, Dow, Environmental Defense Action Fund, General Dynamics, Samsung, Siemens, Boeing, Toyota, Vail Resorts Employee Political Action, Walmart, General Atomics, Dominion, General Motors, Ford Motor Company, Honeywell, American Express, Comcast, General Electric, American Dental PAC, and Lowe's.
While Tshibaka has been spending money to work on her name recognition challenge, Murkowski is booking a sizable war chest, having ended last quarter with more than $1.3 million in cash on hand.