President Donald Trump, appearing at a Save America rally in Anchorage, Alaska, walked into the stadium to the sound of a roaring crowd of over 6,000 supporters at the Alaska Airlines Center, most of whom had waited since early morning for a chance to rally with the president.
President Trump had flown into Anchorage on Saturday from Las Vegas, where he had given a speech the day before.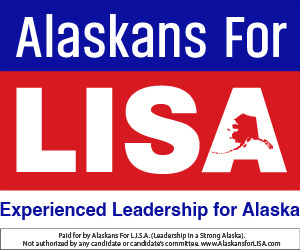 Saturday's theme was that Sen. Lisa Murkowski is worse than a RINO (Republican in Name Only.) He blamed her for all the negative impacts that Alaska has suffered under President Biden.
He also admonished Sen. Dan Sullivan for endorsing Murkowski, and said Kelly Tshibaka is a wonderful, conservative warrior who will serve Alaska well.
Trump, in 98 minutes of a wide-ranging speech that sometimes stuck to the teleprompter notes, while at other times went off script, covered dozens of topics, harping on the contrast between America under his administration and the Biden administration that followed his. He pointed out that during his presidency, gas prices were lower — they are much higher now. He said he signed the largest tax cuts and regulation cuts in American history, while Democrats are now jacking taxes back up. The economy was good under his presidency, and now it is in the toilet. America is the laughingstock of the world under Biden, he said.
Trump talked about the southern border, Afghanistan, China, transgenderism in women's sports, catch and release of illegal immigrants, chain migration, how Democrats cheat in elections, and the wrongness of ranked choice voting, which he blamed on Murkowski.
"It's the only way she could win," he said. He called for same-day voting with paper ballots. He called for identification required for voting.
"This is the year we're going to take back the House, take back the Senate, and take back America. And in 2024, we're going to take back our magnificent White House," Trump said, this is the year we're going to take back the house take back the senate and take back America. and in 2024, we're going to take back our magnificent White House," he said, hinting about his own run for election in 2024.
The president mentioned his support for Gov. Mike Dunleavy, and there was a smattering of boos from the crowd. Trump has endorsed Dunleavy, but Dunleavy was not at the rally. Later, when Anchorage Mayor Dave Bronson was introduced by Trump, there was a huge cheering throughout the stadium, so impressive that Trump was surprised and proceeded to comment that Bronson was obviously well liked by the crowd. There were some in the crowd who wore Nick Begich stickers, evidence that they support Trump but not necessarily his picks. Begich is running for Congress, as is Palin; both are Republicans.
After nearly two hours, Trump ended his remarks on a strong and positive note:
"We will not bend. We will not break. We will never give in. We will never give up. We will never ever back down. As long as we are united, the tyrants we are fighting do not stand a chance." Americans, he said, only kneel to God.
"It's time to start talking greatness for our country again. We will make America powerful again. We will make America wealthy again. We will make America strong again. We will make America proud again. We will make America safe again and we will make America great again!" he concluded. The crowd cheered.