AN ARGUMENT IN FAVOR OF A ZERO DIVIDEND IN 2020
Alaska businesses won't fill up with tourists and their money this summer, if the current "cruise ship crisis" continues.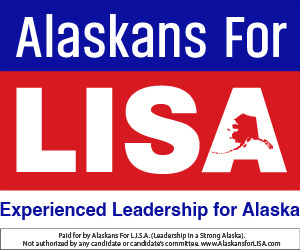 Tourism, which accounts for one in 10 jobs in Alaska, brings in over $4.5 billion a year in economic impact to the state's private economy.
That's about the size of the state budget (undesignated general funds).
But this year, that money won't come; from Ketchikan to Fairbanks, private businesses that operate in the tourism sector have been knocked flat on their backs. Untold families that depend on visitors to Alaska won't be seeing a paycheck for another 18 months, and the businesses they run will not be hiring this year. Many are likely to fail.
Losing that sector of the economy is not the only problem Alaska faces.
The price of North Slope crude oil, projected to be in the mid-$60s, has dropped into the $30s due to a price war between Saudi Arabia and Russia, and now the slowdown of the economy due to the coronavirus. Alaska's budget was built on oil selling at twice what it's now selling.
Oil brings the revenue that runs state services, from education and public safety to roads and bridges.
But wait, there's more.
Commercial fishing is in trouble. With the coronavirus hitting hard all over Asia, the salmon fishery is going to have a very tough year indeed: Who will remove all those pin bones and package that fish? Who will buy that fish? The market for salmon has dried up overnight. Within three months, the Trump Administration could be declaring the 2020 Alaska fisheries an economic disaster.
Alaskans knew that the State budget was already fragile, but with all three pillars of the private sector hit hard this year — tourism, oil, and fisheries — it's shaping up to be a scenario reminiscent of the 1980s recession, when people left the state in droves as the economy cratered.
The coronavirus, if it hits Alaskans hard medically, will take an additional unknown toll on government services, as the health care system faces strain and people expect more from their state government.
The scenario painted here, if the writer has succeeded, shows an impact on Alaska worse than the grounding of the Exxon Valdez.
Times like these call for Alaskans to pull together like they never have before.
It's not a time to introduce more state spending, if not directly related to health and safety. It's also not a time to introduce taxes on the beleaguered oil industry, or a new income tax on those Alaskans who will still be fortunate enough to have a job in six months.
Some, like the Alaska Municipal League, are calling for that broad-based tax. In a letter to the Legislature, the League reminded lawmakers that even last year it had advocated for broad-based taxes (income tax), a position the group has held since 2015.
Of course, for the AML, there has never been enough money for government, even back in the salad days of $110 oil.
But others are saying before that broad-based tax happens, it's time to zero out the Permanent Fund dividend.
Already, the dividend appears to be in the $900 range, as discussions take place in the Capitol about how to balance the budget. Even with a dividend under $1,000, the budget does not come close to balancing.
Some are asking: Why not take the PFD down to zero this year, and keep basic services running during a time of state, national, and international crisis?
Conservatives are divided on that question. Permanent Fund defenders say that the annual dividend is a royalty that they are due, and Alaska Statute defines how it shall be paid. They want the law followed, whatever the result may be.
But others say if this was a company royalty, it would not be paid this year at all. No responsible CEO could justify proposing it, and no board of directors would approve it. The "company" is in the red and is now fighting for its life.
Of course, even with a zero Permanent Fund dividend, Alaska's budget is in the red. For 2020, there's already a $350 million deficit. Going forward for 2021's fiscal year, which starts in July, the deficit is between $400-500 million — and that is without a dividend.
The Constitutional Budget Reserve was always the backstop. It started out this year with about $2.1 billion, but the supplemental budget took it down by some $200 million; the deficit ate even more. That leaves barely over $1 billion in the CBR to help balance the 2021 budget.
The statutorily calculated dividend this year could be as high as $3,000, an amount that some conservatives argue is irresponsible.
WHAT ABOUT BUDGET CUTS?
There are still some expenditures that should be held flat, such as education. This is not the time to increase funding for any program that is not directly related to health and safety. And that includes the increases some legislators want for the Pioneer Homes and ferries. We should not be paying out-of-state ferry workers to operate boats for what is often literally a handful of passengers. And yet we do.
There are still cuts that can be made to the state budget, and should be made. State office workers could take more furloughs, for instance.
But the real time for the correction to Alaska's glory-day budgeting was in 2015-2019. If that correction had occurred when it should have, the economy would have adjusted to it by now.
Today, with crisis hitting from every direction, legislators can't enact deep cuts, as to do so would further destabilize the entire state. That time may be in the future, but not this year.
That's why a zero dividend makes sense. But to do so, there needs to be a grand bargain to recalculate the dividend formula going forward.
It's not healthy for citizens to be receiving $3,000 from their government each and every year — not when the Constitutional Budget Reserve has to be paid back. Additionally, even if it says "royalty" on the check, it's looking more and more like an entitlement that is creating a dependency mentality. It may say "royalty," but it's a lot like the income redistribution of socialism.
JOIN IN THE DISCUSSION
What are your thoughts about zeroing out the Permanent Fund dividend this year? What would you require from state government in order for that to be acceptable? Add your comments below. Civil comments, that is.