By FORREST NABORS
I am grateful for the generosity of Must Read Alaska in allowing me to air the views of many of my colleagues on faculty at the University of Alaska Anchorage in recent weeks, regarding the future of our university system.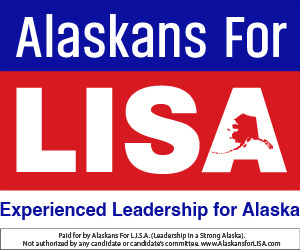 The appearance of our positions on this venue has exposed the work of the committee, for which I am chair, to charges of partisanship.
From the perspective of some of our friends on the Left, our work is unworthy of consideration merely because our views have been posted by a publication on the Right.
Per its mandate, our committee is solely interested in contributing our part to an improved university system, and is indifferent to partisan interests on this matter. I do not even know for certain the political affiliations of more than one professor on our committee.
We appreciate the interest of journalists and politicians, left or right, in what we have to say, and we do not reflexively bend our policy views toward one political party or the other. To prove this, allow me to share some bipartisan scolding and then our position on what ought to be done from here.
The debate over the university system has been badly framed by partisans of two varieties, those who favor indiscriminate cuts on one side, versus those who favor indiscriminate funding on the other.
To those who favor indiscriminate cuts:
Regrettably, the university system was designed to depend on annual appropriations from the state government. For example, community colleges in the United States rely mostly on local public funds. In contrast, our community campuses were not set up that way, and the tax bases of their local communities are insufficient to support them.
Another example: None of our three major universities has its own endowment, and therefore all lack a key institution that ought to help them achieve greater financial independence.
In its present form, our university system is ill-prepared to handle a cut of $135 million in one blow. If this cut to state aid stands, our universities will be seriously damaged. Our best students and faculty will leave the state, weakening our intellectual heft. Programs will be shut down. Our universities might lose accreditation.
If you don't mind that outcome, and the indiscriminate cutting continues, Alaska will become a cultural wasteland. If you think that is no great loss, check the rolls of great names that emerged from only a few hundred thousand people over the course of one hundred years in ancient Athens: Aeschylus, Sophocles, Themistocles, Aristophanes, Phidias, Pericles, Thucydides, Xenophon, Plato, Aristotle and many more. Athens produced those great names in poetry, politics, war, philosophy, history and sculpture because her soil was rich with culture.
Great leaders in life's many vocations do not grow from barren soil. You enrich that soil with culture, and you do not have vibrant culture in our day without healthy universities.
Therefore, if our universities are falling short of the mark, we must improve them, not dispense with them.
To those who favor indiscriminate funding:
Money does not solve all problems. While you might feel good about yourself for supporting munificent aid to a line item called "higher education," that is no guarantee that you will have respectable "higher education" as a result. You will not have done much good, and will probably do harm by wasting the public treasury, if you do not pay attention to how the university system uses those funds and carries out its mission. You will not merit the public virtue that you claim for yourself, if you have done nothing to address warnings of serious problems endemic to the structure of the system that you have aided.
Our committee has done our best to warn the state of Alaska that our system needs serious reform. We have argued that the system should be decentralized for the good of all our universities. (See our May report on FacultySenateReform.com.)
Therefore, if we do not reform and improve, we expose the universities to ongoing, legitimate criticism, and invite unfair political attacks, leading to harsh policies that weaken us further.
So where are we now?
The indiscriminate cutters won the last round. Their man, Gov. Michael Dunleavy, and his supporters in the legislature wanted to move the state towards a balanced budget – a laudable goal in itself – but did not think that the aftermath of the cut to the university system was their responsibility. They left the enormous problem of what to do next to the Board of Regents.
The Dunleavy coalition seems to be waking up to the fact that their victory was pyrrhic. They ought to care not only about the effects of a cut of this magnitude, for which they will rightly be blamed, but also about reform. Every perceived failing of the university system after the cut will be pinned on them, whether deserved or not, or in other words, whether the cause of that failing is attributable to the cut or to our unreformed university system. This is the brutal reality of politics.
But now news of the urgency of reforming our university system in the direction of decentralization is entering public discussion. Anybody on either side of the aisle who lays hold of reform can persuade their respective bases that, on the one hand, reform is the price that their indiscriminate funders must pay for accepting some cut, and on the other, that reform is the price that their indiscriminate cutters must pay for reducing the cut. Those arguments will provide political cover for both sides and will also facilitate the enactment of good policy.
Hopefully, the governor's office and legislators on both sides of the aisle are pivoting away from their prior positions and are recognizing that a compromise is necessary.
Hopefully, they are seeing that the cut must be moderated, at least, and that the university system must be put on a path of reform in the direction of decentralization.
If they achieve a compromise including those two key elements, which we urge, I believe that ultimately, the indiscriminate cutters and funders will both have what they want. The universities will depend less on state aid and they will better deliver on the promise of higher education.
I don't know if that position pleases one party or the other more. All I can say is that the members of my committee and I believe that this is the right policy for higher education in Alaska.
Forrest Nabors is Associate Professor and Chair of the Department of Political Science at UAA, and has served on the UAA Faculty Senate since 2012.