SOME OF THESE RACES MAY BE GOING TO A RECOUNT
Several races in the 2020 Primary Election are coming down to what the absentee voters decided, and if they mailed in their ballots. Ballots had to be postmarked by Aug. 18, and are trickling into the Division of Elections. the count will begin Aug. 25.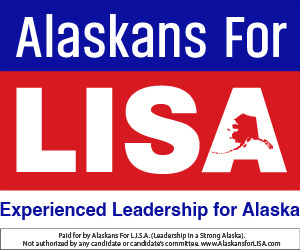 Senate Seat B
Sen. John Coghill, who has held office since 2009, was challenged by Robert Myers for the chance to get to the November ballot. As of now, Myers is ahead with a 126 vote lead over Coghill, 1,447–1,321.
In Senate Seat B, there were 307 absentee votes from District 3 that were received but yet to be counted. In District 4, 670 Republican absentee ballots have come in. That's a total of 977 absentee votes that could be marked for Coghill or Myers.
Taking a look at the districts in Senate Seat B, Coghill and Myers split the early vote in District 3, 24-24. In District 4, the early vote split 50-50. It's close.
Takeaway: If the absentee votes break the same way as the early votes and the Election Day votes, Myers will win Senate Seat. B.
Senate Seat L
Sen. Natasha von Imhof is trailing Stephen Duplantis by 85 votes, 1,351 to 1,266.
There are 504 possible absentee votes in District 23, and 1,090 absentee votes in District 24.
As for early votes in District 23, they broke toward Duplantis, 33-17. Duplantis received 64 percent of the vote in this district.
In District 24, they broke toward von Imhof, 56-48, who received 53 percent of the votes in this district.
Takeaway: It's a safer bet that von Imhof will climb out of the hole she's in due to the 1,090 votes still to be counted in the district where she was strongest, and District 23 may not have enough Duplantis votes for him to overcome those D-24 votes.
Senate Seat P
Sen. Gary Stevens is trailing behind challenger John Cox for this Kodiak Borough district that also stretches up to Homer.
In the District 31 portion of the Senate seat, Cox beat Stevens 1,144 to 709. There are 746 absentee ballots possible for that district.
In the District 32 (Kodiak) side of the Senate seat, Cox lost to Stevens 259 to 625. and there are only 320 ballots to count.
There are no early votes tallied yet for this race.
Takeaway: John Cox has a very good chance of retaining his lead over Stevens. Neither of the candidates pursued the absentee ballots with any effort.
House District 2
Rep. Steve Thompson is ahead of challenger Dave Selle by 13 votes. There are 210 possible Republican absentee ballots already turned in and 348 that have not yet been received by Aug. 18. In the early vote, Selle carried the day 18-15, so if that trend holds on the 210 already received ballots, he will win.
Takeaway: This could be a race that goes to a recount.
House District 10
Rep. David Eastman is holding onto a lead over Jesse Sumner, by 79 votes.
The Early vote leaned slightly for Sumner, 77-73. there are 568 absentee votes turned in for this district and 861 still not returned by Aug. 18.
Takeaway: 79 votes is a big lead that could narrow, but likely not enough to help Sumner to a win.
House District 23
Connie Dougherty and Kathy Henslee are in a tight race to take on incumbent Democrat Rep. Chris Tuck in November. Dougherty is winning by 16 votes and there are 504 possible absentee. Henslee carried the early vote 26-24 over Dougherty. If she gets the same percentage in the absentee ballots, she could pull off a narrow victory.
Takeaway: This race is a toss up that could be going to a recount.