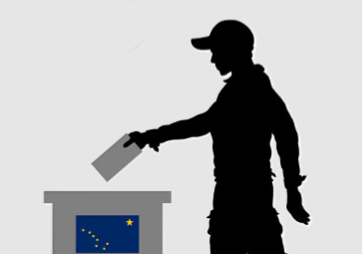 No sooner did the Kenai Peninsula Borough Assembly vote in favor of an all-mail-in election, than a petition with more than 1,800 signatures has emerged to defeat the measure. This matter looks like it's headed for the ballot.
Norm Blakely, an Assembly member in the Kenai Peninsula Borough, only needed 1,362 signatures to put the question of mail-in-only elections to the voters. He says it's not right that six people in the entire borough are making that monumental decision.
The petition is still available for signatures until Saturday, according to MRAK sources. It can be found at Nikiski Hardware and Alaska Trade and Loan in Soldotna. The group of activists behind the referendum will turn the petition into the Borough Clerk for signature verification on Saturday.
That's where it will get tricky. The borough's Clerk Johni Blankenship has been leading an effort around the state to move all boroughs to all-mail-in ballots, and she has become known as the champion and subject expert for that voting method, which is hotly contested between liberals and conservatives.
The Assembly had passed by the vote-by-mail ordinance on June 3 and again on reconsideration on June 16.
Mayor Charlie Pierce vetoed the ordinance, but the Assembly had enough votes to override him. If it stands, every registered voter in the borough will receive a mail-in ballot starting in 2021.