In the race for Congress in Alaska, there have been many twists and turns. But through it all, every day there's a big testimonial for candidate Nick Begich is posted on his Facebook page.
But the one posted on Tuesday was a real surprise — it came from Sarah Palin's former father-in-law, Jim Palin.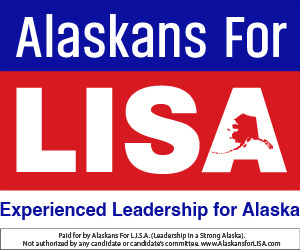 Jim is Todd Palin's father and the grandparent to the Todd-Sarah Palin children. Todd and Sarah have been recently divorced and it was not a good experience for either of them, according to those who followed the drama. Sarah is now dating a retired New York Ranger hockey player Ron Duguay. Sarah was also a late entrant into the race for Congress; she waited until April 1, two weeks after the death of Congressman Don Young, which occurred March 18.
Nick Begich, like Palin, is running in both the special election to serve as the temporary Congressman until January, and also in the regular election for the two-year seat, which begins in January.
Nick is the young, conservative Begich in a family known for its aging liberals. His own father is a Libertarian and his mother is a Republican. In high school, Nick was a member of his school's Republican Club. Through the years he has lived in Alaska, he has proven himself to the conservative influencers around the state, through his volunteer work in the Alaska Republican Party, with the Alaska Policy Forum think tank, and as a board member of MTA, one of the nation's largest telecommunications cooperatives. He was the co-chair of Congressman Don Young's 2020 re-election campaign.
Sarah is arguably the most famous Alaskan in state history, and comes into the race for Congress with higher name ID than even the congressman she hopes to replace. She has lived her life out in the open in a very public way, serving as governor, vice presidential candidate, cable news commentator, and even appearing as a dancing, rapping bear on a show called "The Masked Singer." Polling by Must Read Alaska shows that she has a strong chance of making the final four for the Aug. 16 ranked choice ballot in the special election general. The special election primary ballot will be in the mail in just 8 days, on April 27.