TWO OF FIVE REPRESENT RURAL ALASKA INTERESTS
Supreme Court Chief Justice Joel Bolger picked an open opponent of Gov. Mike Dunleavy to serve on the state's Redistricting Board. That is the board that convenes once every 10 years to redraw the political boundaries in the state, an exercise occurring in every state after the U.S. Census is taken.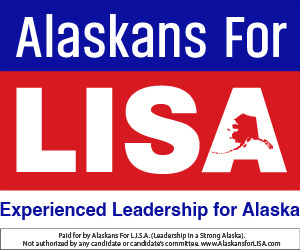 The choice of Melanie Bahnke of Nome is a shot at the Dunleavy Administration by the Alaska Supreme Court. Bahnke is the president and CEO of regional tribal consortium Kawerak, and has served on the board of AFN, which has taken a strong stance against the governor and his attempts to rein in the budget. She also disrupted an event in Nome where the governor was speaking in 2019.
A leader in the Recall Dunleavy movement, she will be the representative on the Redistricting Board for rural Alaska. Along with Speaker Bryce Edgmon's choice of Nicole Borromeo, who is legal counsel to AFN, this means rural Alaska has a 40 percent representation on the Redistricting Board.
Other members of the board were chosen by Gov. Mike Dunleavy — Budd Simpson, a Juneau attorney; and Bethany Marcum, who heads the Alaska Policy Forum.
Sen. Cathy Giessel's choice was John Binkley, a former state legislator and successful businessman who is a Republican.
Rep. Bryce Edgmon's choice of Borromeo was supported by the Committee on Committees, which includes Speaker Edgmon and Neal Foster, both Democrats, along with collaborating Republicans Louise Stutes of Kodiak District 32, Jennifer Johnston of South Anchorage District 28, Chuck Kopp of South Anchorage District 24 and Steve Thompson of Fairbanks District 2,