The Alaska Human Rights Commission board came down on the side of the agency's executive director, allowing her to keep her job, but requiring a brief suspension and a public apology for her misdeeds.
Marti Buscaglia was the subject of a state investigation because she harassed and subtly threatened an Alaskan over his truck decal, which she decided was "hate speech." It was, in fact, the truck owner's commentary on the Second Amendment of the Constitution.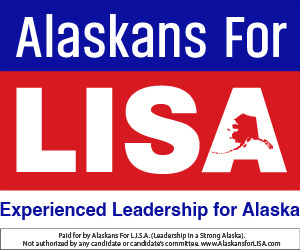 Buscaglia also bullied the truck owner on Facebook, using the State of Alaska's official Facebook page for the Human Rights Commission.
Many Alaskans have called for the resignation of Buscaglia, because she violated the First Amendment rights of the truck owner, who had parked his vehicle in the Human Rights Commission parking lot, and she abused her authority. Buscaglia put her state-issued business card on his truck and ordered him off the property.
[Read: Human Rights director thought she was regulating 'hate speech']
[Read: Human Rights Commission vs. First, Second Amendment]
The vote, Must Read Alaska has learned, was 5-2. Buscaglia's suspension starts Monday and ends April 26.
Brenton Linegar, the owner of the truck, issued this statement on Friday:
"If A bumper sticker can incite a call to ban one from a parking lot, cost them their livelihood and ostracize them as an outcast. I can only imagine the anger that someone has to be carrying to follow such a path about a total stranger. This is who she is and a slap on the wrist is not going to change her ideology. When she was hired or appointed, she wasn't even qualified for the job.
"She has lied in the past to get hired and has been fired before. From an internal source, she has been weaponizing this department and she will continue to do so. This cannot be tolerated at this level and is a dangerous precedent to set if she is allowed to continue in this job. She has willingly wasted taxpayer money, willingly infringed on my 1st and 2nd amendment rights, she willingly tried to cost me and my employees their livelihood and ostracize me in a small community.
"She then went on to speak to the press and continue to lie about her intentions. If she wanted to simply have a conversation with me, then a note to that effect could have been left on my windshield.
"Instead, she saw fit to write a different type of note, put my truck on Facebook on the State page and email my client from her state provided email, all the while using the full weight of her title along with her cohort, the chief of parole officers to intimidate me and my client.
"She also did this all on tax payer paid time, taxpayer-provided business cards and so on.
"The Governor was elected to do many things, and one of those things was to get rid of this type of abuse of position and to stop this type of behavior.
"The only way to stop people like this is to get them out of these positions where they can willingly damage others, while pushing their personal agendas and purposefully operate outside of their job scope and directive. This is dangerous and Alaska is watching. The world is watching as this situation has been seen all the way in India. Future voters are watching."