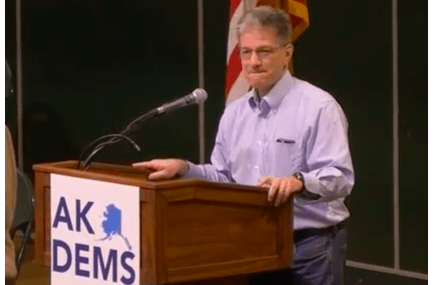 By SCOTT LEVESQUE
The Anchorage Assembly will vote Tuesday on whether to extend Mayor Ethan Berkowitz's executive powers through Dec. 31.
The request, AR 2020-379, is the fifth time since March 12 the Assembly will have voted to lengthen the Declaration of Emergency.
Read the Assembly Resolution extending the mayor's emergency powers here.
Assembly Members Jamie Allard, Crystal Kennedy, and John Weddelton are the only three who voted in favor of a public hearing. The rest of the Assembly — Forrest Dunbar, Suzanne LaFrance, Felix Rivera, Meg Zalatel, Austin Quinn-Davidson, and Kameron Perez-Verdia — refused to allow public testimony, indicating that no public hearing is planned for Tuesday.
If the public is denied the opportunity to testify, will residents continue to abide by shutdowns? Can the Anchorage economy withstand another hunker down in Anchor-town?
Tuesday's vote comes at a pivotal point for Anchorage residents and businesses. The city's economy, public health, and the Mayor's moral authority are all in crisis mode heading into tomorrow's Assembly meeting.
It's unclear whether the city's economy, which teeters on the brink of possible collapse, can sustain another lockdown. Small businesses, like Momma O's, CampoBello Bistro, Marco T's Pizzeria, and Red Chair Cafe are closing their doors daily. With little financial assistance available from the Municipality, more are sure to follow suit.
The Assembly allotted just $6 million to the CARES Act's small business stabilization program while allocating over double the amount, $12.5 million, to purchase homeless facilities.
Assembly Members Dunbar, LaFrance, and Quinn-Davidson will propose adding $10 million to the small business relief program, but many contend the gesture is still not enough to stabilize the city's fragile economy.
Tourism and hospitality programs and some nonprofits received a separate allocation.
Adding to the crisis is the sudden rise in confirmed COVID-19 cases around the state. Epidemiologists have estimated that Alaska's total case count will double in roughly 20 days, based on current modeling.
Tuesday's vote will play an essential role in Anchorage's economic outlook as the mayor may call for another citywide lockdown.
Yet, Berkowitz has more than rising COVID-19 cases on his mind.
On Friday, Mayor Berkowitz was at the center of an explosive story by former FOX News reporter Maria Athens. A video posted to Athen's Facebook page claimed the Mayor exposed his genitalia on an underage girl's website. Athens reported having photographs and "reliable sources" on the matter. To this point, the post is still up on her Facebook page, garnering over 1,000 comments, and nearly 1,000 shares.
That afternoon, the Mayor's office released a brief statement calling the story defamatory and false, citing Athens as hostile and unwell.
Assembly member Forrest Dunbar and former member Eric Croft, both members of the Mayor's inner circle, have come to the Mayor's defense over the weekend, releasing separate statements vouching for his unquestionable character.
Today at 4:30 pm, Mayor Berkowitz released a statement admitting to having, what he called, an inappropriate messaging relationship with Maria Athens several years ago. Since his initial statement on Friday, the Mayor's office had been silent on the matter, until he announced today a previously secret relationship with Athens.
Now, many residents are questioning the Mayor's moral authority to retain his emergency powers, which give him nearly absolute control over city functions.
In his statement, Berkowitz said, "It takes time to rebuild trust, and I hope you afford me the opportunity to do so. During the remaining months of my term, I will continue working on the important issues we face."
Today's bombshell will have a ripple effect on the mayor's political clout moving forward. As protesters line the Loussac Library tomorrow night, Mayor Berkowitz may be forced to do the "walk of shame" in front of critics who do not wish to see his executive powers extended.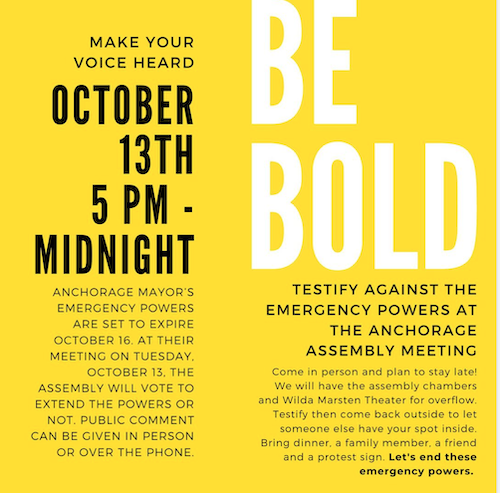 Will the Assembly continue to entrust Anchorage's future to this administration and relinquish their authority, with the city's economy on the brink, or will they vote to maintain a separation of powers and begin the slow process towards economic recovery?
Tuesday promises to be a dynamic day in the Municipality of Anchorage.