Here is the testimony of an attorney in Anchorage, Michael Schecter, who accuses Anchorage Assemblywoman Jamie Allard of being a disgrace to the uniform she wore as a soldier, and an apologist for Nazism. His testimony could not be heard on Tuesday night at the Assembly meeting because of the disruption in the room as he read his statement. Schecter is an attorney with Ashburn & Mason, P.C., a law firm in Anchorage and was previously an Assistant Attorney General for the State of Alaska. Schecter has a law degree from Harvard University, and has served on the Alaska Bar Association Law Examiners Committee since 2019 and on the Third Judicial District Mediation Panel since 2017.
Schecter submitted his comments to the Assembly in writing: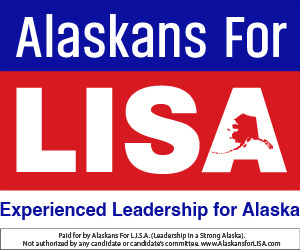 Finally, in case you could not hear my comments over the pitiable display from the folks screaming in the audience, here they are.…
Thank you Chair Rivera. My name is Michael Schechter and I am an Anchorage citizen. Over this past weekend, a member of the Assembly used social media to abusively gaslight Anchorage citizens about Nazi symbology and ideology. Specifically, she defended "3rdReich" and "Fuhrer" license plates as innocent, non-hateful, and unrelated to Nazism. And she did so after being presented with evidence that there could not possibly be a reasonable non-Nazi justification. Either out of willful ignorance, hateful malice, or both, this member chose to make excuses rather than confront the reality of a nazi supporter in her own community. Nazism was a scourge upon this earth that killed 20 million people in Europe, including 6 million Jews, members of my family among them. Over 16 million Americans, including my grandfather, fought against fascism and Nazism in WWII and more than a million of them were killed or injured. Jamie Allard is a disgrace to their memory and a disgrace to the uniform she wore, as well as a disgrace to this Assembly and our City.
Unfortunately, that does not bring us to the end of Ms. Allard's actions of the last few days. After getting negative feedback on her ignorant and baseless nazi apologism, Ms. Allard appears to have deleted individual comments and then her entire official assembly facebook page because she did not like what she was hearing from constituents. That itself is an anti-democratic act of political cowardice, surely worthy of our collective opprobrium.
At this point in history, there cannot be good faith dialogue with Nazis, Nazi sympathizers, or Nazi apologists. I urge every member of this Assembly and the Administration to ignore and reject all legislation advanced by Member Allard because upstanding Americans have no reason to engage with Nazis or their apologists. She should also be removed from any committee assignments for the same reason. I don't request that lightly, but the Assembly must take steps to protect its legislative process and the citizens from someone who will act out of ignorance and malice. Similarly, this Assembly should not give voice to a member who gaslights constituents in order to make excuses for Nazis, nor should this Assembly let that member speak for all of you. Accordingly, the assembly should take immediate action to remove Ms. Allard as the Assembly's liaison to the National League of Cities, the Chugiak-Eagle River Chamber of Commerce, and the Anchorage Economic Development Corporation.
This is surely not enough and I recognize that we may be saddled with Ms. Allard's blight upon our city until her next election.
Thank you for your time and diligent service to Anchorage.
Best,
Mike Schechter