Former Gov. Bill Sheffield has retired from the board of the Alaska Railroad Corporation. Gov. Michael Dunleavy named him into an honorary position of Chairman Emeritus. Sheffield is 91 years old and was Alaska's fifth governor.
"Over the years, Governor Sheffield has provided invaluable leadership and expertise to assist the Board in weathering harsh economic realities and making the changes necessary to ensure the survival of the railroad as a tool for economic development in the State," said Gov. Dunleavy in a statement.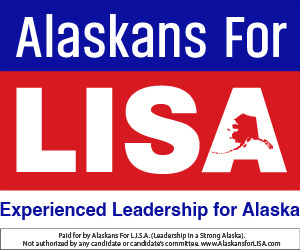 Sheffield, a moderate Democrat, published his memoirs last year, available at Hearthside Books in Juneau and in other bookstores, including Amazon.
Dunleavy appointed Judy Petry of Elk City, Oklahoma to assume the Railroad Management vacancy left by Sheffield.
Judy Petry

John Shively
Petry has a long history of working in the rail industry that dates back to 1987 with the Farmrail System, where she began in accounting and rose to become president and general manager in 2014. Petry has served on the American Short Line and Regional Railroad Association Board of Directors since 2004, and currently serves as chairman.
[Read Petry's profile at Progressive Railroading]
Dunleavy also appointed John Shively of Anchorage to the Alaska Railroad Corporation Board of Directors. Shively will assume the expired Third Judicial District seat, held by Linda Leary since 2009. 
"I thank Linda for her exceptional years of service to the state and the railroad," said Dunleavy. "In her 10 years of service with the railroad, she brought to the table keen leadership, strategic planning, and a deep understanding of Alaska's unique logistics and transportation needs. Linda's tenure as a board member and chairwoman has ensured the future success of our transportation industry." 
Shively earned his bachelor's degree in political science from the University of North Carolina at Chapel Hill. He helped develop the Red Dog Mine while serving as chief operating officer for NANA Regional Corporation from 1992 to 1994. Shively served as chief of staff to Gov. Sheffield from 1983 to 1985, and later as commissioner of the Department of Natural Resources under Gov. Tony Knowles from 1995 to 2000.
Shively came to Alaska as a VISTA volunteer, is a former regent for the University of Alaska. He served on the boards of the Anchorage Symphony, Democratic Leadership Council, Junior Achievement of Alaska, Inc., and the Alaska Federation of Natives Legislative Committee, and numerous other boards. In the 1990s, the bishop of the Episcopal Diocese of Alaska tapped him to head up a statewide campaign to raise nearly $1 million. He now is chairman of the Pebble Project for Northern Dynasty.