The following letter was received by many Alaskans who wrote or contacted the office of U.S. Sen. Dan Sullivan:
I. Introduction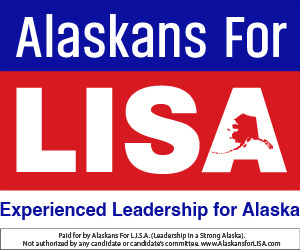 I want to thank the thousands of Alaskans who called or wrote in about the presidential election, and on the joint session of Congress to count the Electoral College vote. Regardless of where you stand on the presidential race, your engagement is appreciated. In fact, it is crucial for our democratic system of government.
I also want to thank the many Alaskans who reached out to make sure my team and I were safe on Wednesday, January 6, 2021, as violence was underway at the U.S. Capitol while we were attempting to undertake our constitutional duty by counting the Electoral College vote. And, I thank the courageous work of our law enforcement officers today, including the Capitol police, some of whom were seriously injured and, tragically, one of whom died.
The violence that engulfed our Capitol was a disgrace and will go down as one of the sadder and more dispiriting days in our country's history. But those who chose violence in order to disrupt our constitutional duties did not have the last word. Early on Thursday morning, January 7, Congress fulfilled its role to count the votes of the Electoral College, ensuring that an orderly transition of power—one of the most sacred hallmarks of our great constitutional republic—takes place on January 20, showing the country, and the world, the resiliency of America's democracy.
Like I have done with all critically important decisions—including votes to acquit President Trump on impeachment charges just 11 months ago—I've focused intently on fulfilling my constitutional responsibilities throughout the Electoral College process. I have refrained from talking to the media before I could fully absorb all of the material—particularly the relevant constitutional provisions, historical record, precedents, and input from Alaskans and fellow senators. Similar to the impeachment trial, I have been focused on the impact that our actions in the U.S. Senate would have, not just today, but the precedents that will be set regarding constitutional norms, our institutions, and states' rights—giving serious consideration to the deep responsibility we have in the Congress to future times.
Many Alaskans encouraged me to join some of my fellow senators in objecting to certain states' Electoral College votes, but as I explain more fully below, I believe that by objecting to the votes of the Electoral College, Congress would be dramatically expanding its limited constitutional role in presidential elections by usurping the explicit constitutional power of the states and the people to elect the President. This would set unwise and troubling precedents, especially for Alaska.
Like many Alaskans, I am deeply concerned that the incoming Biden administration will work to undermine much of the historic progress we have made during the Trump administration that has positively impacted working families, our economy, our military and veterans, access to our lands, Alaska Native communities, and the federal judiciary. But, ultimately, my oath is to the Constitution and the laws of our nation. This includes the Electoral College process and the orderly transfer of power.
II. The Imperative to Restore Confidence in Our Elections
It is increasingly clear that tens of millions of Americans, including thousands of Alaskans, question the legitimacy of the outcome of this election and the integrity of the American electoral process. This should trouble all Americans, whether you are a Democrat, Republican, or Independent. These concerns should not be dismissed. The lack of confidence in the integrity of our elections began well before the 2020 elections, as we witnessed many prominent national elected officials questioning the legitimacy of the 2016 presidential election results over the past four years. It is vitally important that Americans have confidence in election integrity. To that end, I, along with a number of my colleagues, introduced on January 6, 2021, one of the first bills of the 117th Congress that calls for the establishment of a 9/11-type commission that will bring transparency to many of the issues and irregularities of the 2020 election with the goal of advancing state-led reforms that will protect and enhance the integrity of our electoral systems.
III. Objections to the Electoral College Votes Will Not Change the Outcome of the Election
Elections are often contested, and commonly involve all manner of recounts and legal challenges—2020 was no exception. The pandemic, and the unprecedented number of mail-in and absentee ballots cast, made those challenges all the more pronounced. I supported the Trump campaign's right to request recounts and pursue legal challenges through our courts. In our constitutional system of government, this is how electoral disputes and allegations of fraud are resolved.
Numerous legal challenges have been heard across the six battleground states, including many before Republican-appointed judges. There were also appeals and reviews by the U.S. Supreme Court and investigations by the Department of Justice, under the leadership of Attorney General Barr. While some instances of election fraud and irregularities have undoubtedly occurred, no Supreme Court justice, state or federal judge, state legislature, or governor found sufficient evidence to overturn their state's election results. Of the six states to which questions have been raised, five have state legislatures controlled by Republicans and two have Republican governors. Pursuant to their constitutional obligations, each of these states has certified Electoral College slates to be counted by the Congress. No state submitted multiple slates of electoral votes.
Nevertheless, many are still convinced that widespread fraud took place. They encouraged me to join efforts by some of my Republican Senate colleagues to object to the counting of certain electoral votes. But it needs to be said that such objections would not have resulted in a second term for President Trump. The vote by a Joint Session of Congress on January 6 was never going to produce this result, even though many were misled into believing that this could happen. Even my Senate colleagues who were supporting these efforts acknowledge that, under federal law, it would have required Speaker Pelosi and House Democrats to reject Electoral College votes supporting Joe Biden and to vote to support President Trump instead. This was not going to happen. For that reason, Republican senators seeking to object to the Electoral College vote emphasized that they were taking such actions as a way to "raise the issue of election integrity."
As noted above, I am very focused on this issue and am leading legislative efforts in this regard. But an important reason I did not join these efforts by several Republican senators to object to the state-certified electoral votes was that I believed they lacked constitutional legitimacy and could have had profound and negative consequences for Alaska.
IV. States Through the Electoral College Have the Primary Constitutional Power in Electing the President
Article II of the U.S. Constitution and the 12th Amendment govern how our country elects the President. This is one of the most important pillars of our constitutional order undergirding the peaceful transition of power, which is a cornerstone of our republic. Article II creates the Electoral College and provides that "[e]ach state shall appoint, in such manner as the Legislature thereof may direct, a number of electors, equal to the whole number of Senators and Representatives to which the State may be entitled to in Congress…The person having the greatest Number of [Electoral College] votes for President, shall be the President." Acting through the Electoral College, the Founders entrusted the states and the people with the power to elect the President, explicitly giving each state the sole authority to hold their own elections and select electors for the Electoral College. Pursuant to Article II, every state has enacted laws governing how this process is conducted, and has robust mechanisms for challenging and reviewing election results through canvasses, recounts, and the courts.
While Article II and the 12th Amendment commit the power and responsibility for electing the President to the states and the people, these constitutional provisions also make clear that the role of Congress is limited—primarily to count the Electoral College votes in a joint session of Congress. Congress has a larger role only in extraordinary circumstances, such as an electoral vote tie or if a state submits competing slates of Electoral College votes. More specifically, by objecting to state-certified Electoral College votes, members of Congress were not only asserting that Congress has the authority to overturn elections, they were usurping the explicit constitutional power of the states to choose the President.
Such a precedent would be unwise and troubling, especially for states like Alaska. It could create a system that would allow the President to ultimately be chosen by whichever political party controls the Congress, overriding the power of the states. It could also eviscerate the role of the Electoral College, which gives Americans in less populous states, like Alaska, a much greater voice in presidential elections. This has been a long-sought goal of progressives from large population states. But the Electoral College is not some antiquated vestige of the past. It is a wise institution created by our Founders that was intended to enhance federalism and individual liberty. Protecting our constitutional order and the explicit constitutional right of states to elect the President requires the Senate to respect the limits placed on our own power.
From a more Alaska-oriented and partisan perspective, our state has voted for Republican presidential candidates every four years since 1964. Yet, in the past 32 years, successful Republican presidential candidates have won the popular vote only once, relying on the Electoral College for their victories, which Alaska supported, during this time span. This includes President Trump's 2016 victory.
The actions by some Senate Republicans to challenge electors in several states endangers this constitutional system, which has benefitted Alaska and enhanced federalism and our individual freedoms for decades.
V. Conclusion
I was saddened and angered by the violence that engulfed the Capitol on January 6, 2021, and I wish fervently that President Trump had accepted the results of the election, and more forcefully and earlier repudiated the violence on that sad day.
This past November, a significant majority of Alaskans, myself included, supported President Trump's reelection. These Alaskans should not be confused with or lumped together with those who perpetrated violence in the historic halls of the U.S. Capitol. Working with Alaskans, the Trump administration helped our state make historic progress on a variety of issues that positively impact working families, our economy, our military and veterans, access to our lands, Alaska Native communities, and the federal judiciary. Although I stand ready to work in a bipartisan manner with President-elect Biden, I am deeply concerned that the incoming administration will work to undermine much of the progress we have achieved in the past few years.
But, ultimately, my oath is to the Constitution and the laws of our nation. This includes the Electoral College process, and the orderly transfer of power—one of the most sacred elements of our great constitutional republic—which will take place on January 20. For these reasons, I voted on January 6 and 7 against objections to the 2020 state-certified Electoral College vote, which helped to underscore for Alaskans, our fellow Americans, and the rest of the world that American democracy remains resilient and strong. I recognize that thousands of Alaskans did not agree with this decision, but I believe strongly that this was the constitutionally correct action to take as your Senator.
About a year ago, right before the impeachment trial began, I was at an event in Wasilla where many Alaska veterans were in attendance. One proud veteran approached me with a simple but fervent request: "Senator Sullivan, protect our Constitution." I believe I did as a result of my votes on impeachment and, although I am sure that some will disagree, I believe that I also did so regarding my Electoral College votes.
On January 6, 2021, the world witnessed our Capitol under siege. On January 20, our country will swear in the 46th President of the United States. The world will witness the cornerstone of our democracy, a peaceful transfer of power—like there has been in our country for more than 200 years. Our Constitution will remain strong.
Thank you again for contacting me on this issue. I hope you and your family find yourselves healthy and well during these challenging times. I am confident that Alaska and America will emerge stronger and more resilient as we all work together to fight the COVID-19 pandemic. If you have any more questions or concerns, please feel free to contact me or my staff. My office can be reached at 202-224-3004, or online at www.sullivan.senate.gov.
Sincerely,



Dan Sullivan
United States Senator