ARRESTED WOMAN LATER ATTENDED AND SPOKE WITHOUT INCIDENT AT GOVERNOR'S MEETING
Sen. Donny Olson took a stand against Nome Police today, after they handcuffed a woman who approached and yelled at Gov. Michael Dunleavy as he arrived at the Nome Airport, on his way to giving a budget presentation.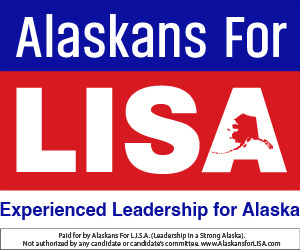 Brenda Evak was arrested at the airport by the local force for disorderly conduct, prompting Olson, a Democrat from nearby Golovin, to issue the following statement from Juneau, on the State of Alaska Senate Democrats letterhead:
"This afternoon, I was notified that Nome resident Brenda Evak was arrested today for using her First Amendment rights to voice her concerns to Governor Dunleavy at the Nome airport," Olson said in a statement.
"All Alaskans and Americans have the right to free speech. It is outrageous that an Alaskan expressing an opinion to the Governor is treated this way. Alaskans are angry, and they feel like their voice is not heard. I hope Governor Dunleavy takes the experience from this event to understand the impact his budget is having on all Alaskans and uses it to finally start governing this state on behalf of its people," Olson said, evidently not in command of all the facts surrounding the incident, including the inconvenient truth that his own local police force were in charge.
It's unclear why Nome police arrested Evak, who was shouting loudly but who had not made any apparent threats. State Troopers were not involved in the decision.
The governor then held a meeting at a local church, gave his presentation on the budget, and opened it up to questions. About 15 people from the audience spoke, a mix of some who support him and others who criticized his budget.
Among those attending were a number of his former students who came to Nome to see him, and the quiet majority of people who attended the meeting supported his approach to fiscal responsibility.
Evak, who was wearing a Defend the Sacred sweatshirt, was released by police and attended the meeting, where Gov. Dunleavy welcomed her to speak.
Evak's question to him was, "How much money have you been paid by the Koch Brothers?"
The answer he gave was that the Koch Brothers had not paid him anything.
There was clearly organized opposition at the meeting, but the governor made sure everyone who raised their hand had a chance to speak.