Alaskans for Dan Sullivan has announced four Alaskans are the Statewide Campaign Co-Chairs for U.S. Senator Dan Sullivan's 2020 re-election campaign: Former Gov. Sean Parnell of Palmer, Gail Schubert of Nome, Jim Dodson of Fairbanks, and Julianne Curry of Petersburg.
"It's an honor to have the support of these accomplished Alaskan leaders; each of whom bring significant knowledge, experience and wisdom to our campaign team," Sullivan said.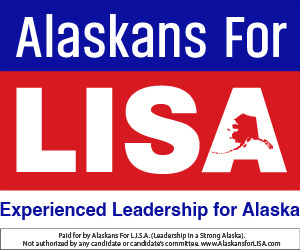 "This is a co-chair team with a demonstrated track record for advancing Alaska's best interests, and their leadership and thorough understanding of our state will be invaluable as we work together with Alaskans to build a stronger, more resilient state," he said.
The co-chairs represent a diverse group of Alaskan leaders, with political, geographic, cultural and professional backgrounds.
Sullivan 2020 Campaign Co-Chairs will serve in key advisory and surrogate roles as the Sullivan campaign continues to expand and strengthen its grassroot networks across the state.
Sullivan is running for the second time after being a first-time candidate for any elected seat in 2014, and winning against incumbent Sen. Mark Begich, a Democrat.
Schubert is CEO of Bering Straits Native Corporation, Dodson is CEO of Fairbanks Economic Development Corporation, and Julianne Curry is a fourth-generation Alaska fisherman and commercial fisheries advocate.