Thousands of bears are harvested every year in Alaska, but if Alaska Fish and Game kills a pack of dangerous bears in urban Anchorage, there are going to be those who will complain, and the mainstream media is there to service the complainers.
That is how it came to pass that the New York Times wrote a story about four garbage bears who had put their hungry snouts inside the tents of campers at Centennial Park Campground one time too many and ended up dead. For the world, it's the stuff of legends, but for Alaskans, it's called summer.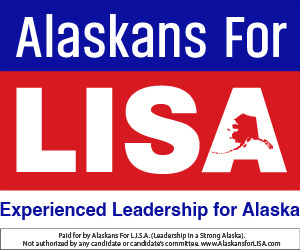 There are few who think that destroying the garbage bears was unfair to ursus americanus. But they are the few who have the ear of the mainstream media.
"The killing of the bears raised questions in the community about the safety of the hundreds of homeless people living at the campground," the New York Times wrote.
"Raised questions" is a reference to the left-wing resistance to clearing dozens of homeless people from the Sullivan Arena and setting them up in tents in the Centennial Park Campground, no fee required.
Corey Allen Young, communications director for the mayor's office, said bears are all over in Anchorage, not just at the campground. It's not uncommon for bears to be destroyed when they become dangerous in the city limits. It happens routinely, in fact.
Alaska is bear country. An estimated 100,000 black bears roam the state — one for every seven Alaskans. The annual harvest of them is about 3,250 bears.
"As many longtime Alaskans can attest to, bears do not go to just campgrounds," Young told a reporter. "During the summer, it is common to see them throughout the city in many neighborhoods. The priority will always be to protect humans and mitigate risks to bears."
Young said that officials "continue to inspect camps and educate campers about bear-safe practices" and that private security personnel were already at the site but that they would now be working around the clock," according to the Times.
During the reign of Gov. Bill Walker, state government tried to play nice with urban garbage bears, and it didn't work out.
In 2015, a sow black bear and her four year-old cubs were relocated from Government Hill in North Anchorage to a remote corner of the Kenai National Wildlife Refuge, south of Anchorage. The bears were fitted with radio tracking collars to allow the Department of Fish and Game to monitor their movements. The sow also was fitted with a GPS collar.
Those bears had been picked up and flown out of Anchorage on May 1 of that year after becoming a hazard in the neighborhood. By May 4, they were within 1.5 miles of the town of Hope, and the people of Hope started securing their trash. Then the bears moved in. They became regulars.
The U.S. Forest Service restricted camping outside of Hope the following year after the bears tore up an unattended tent with food inside at the Porcupine Campground. Finally, the bears were euthanized after one of them climbed into a parked van, while the driver was relaxing inside.
In 2021, 12 bears had to be killed in Sitka. They were brown bears; Chichagof Island is full of brown bears. Every year some get destroyed because they take up residence in a neighborhood.
In May of 2022, a soldier from St. Augustine, Florida was killed by a brown bear on Joint Base Elmendorf-Richardson, while he was on a training assignment.
It often makes more sense to destroy a bear, rather than hope that it can be reformed, once it gets a taste of easy-to-harvest human food, wildlife managers say.
"Efforts to relocate bears often fail because the animals may travel long distances to return to their location of origin. In one case recorded by the department, a brown bear relocated from Cordova to remote Montague Island in Prince William Sound was killed in Cordova less than a month later within 100 yards of its original capture site. The bear's return entailed a 50-mile-long straight-line journey, which required a minimum 7-mile-long open saltwater crossing of Hinchinbrook Entrance from Montague Island," the Alaska Department of Fish and Game reported.
"Even when relocation results are permanent, the solution is often only short term as new bears will move into the area. Within a day of Friday's relocation of the Government Hill black bear sow and four cubs, the department began receiving reports of new black bears in the neighborhood."