By ROB FORBES
For decades, politicians, Anchorage Assembly members, and mayors have talked a big talk about the revitalization of Anchorage – and more specifically, our downtown.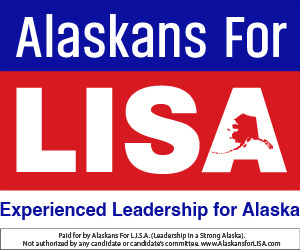 We have achieved positive movement around the Dena'ina Center and the Anchorage Museum to the credit of past administrations. We are progressing with development in the downtown transit center that makes it feel safe again for our residents and tourists.
Private ventures, such as the 49th State Brewing Company, led by Jason Motyka and David McCarthy, reinvigorated another community staple and transitioned a tired area into a booming thoroughfare of the downtown area.
Ginger's Matt Gill took on the burden of mandates, Covid-19 closures, employee shortages, and inflation and has kept our storefronts and tourists' full for the past few years. Now it's time for us to rise up together to support a project that will take a significant leap in the right direction to jump-start our downtown revitalization project.
As you may have likely read in Anchorage Daily News or on Alaska's News Source, longtime Anchorage property owners Peach Holdings, LLC plan to demolish and reconstruct the 4th Avenue Theatre after a long and storied history as an icon in the downtown area of Anchorage.
According to ADN, Peach Holdings owns all but one lot on the city block between Fourth and Firth Avenues along F and G streets, including the former Key Bank Building, which is currently undergoing a massive transformation. Mayor Bronson has come out in strong support of this new development stating "…the project will be a boost to our economy. Our downtown should be bustling with life."
I agree wholeheartedly and will do everything within my power to support the project moving forward to provide our downtown with a fresh breath of air, investment, and modernization which is critical and necessary to become what our city is destined to be. We are a great city with great ambition. We must pursue ambition, risk, and innovation instead of living under the nostalgia which impedes our children's future from attaining the infrastructure that bringabout high paying, quality careers in Anchorage.
I am encouraged by the statement made by Adam Trombley, the director of the city's Office of Economic and Community Development when he stated that "This is an extremely complicated project," and that "I've never witnessed such coordination between a developer and the municipality." This is good news for Anchorage, not just for downtown Anchorage, but for all of us!
When the City of Anchorage decides that we will partner with private developers to move projects forward to revitalize our city – we all win. As risk takers and innovators, we must change our perceptions and preconceived notions that fuel an anti-development narrative jumbled with special interest jargon and bureaucratic red tape.
I will work tirelessly for this vision of our city and have every desire to work with the current and future administrations for the betterment of the people of Anchorage. With the knowledge I have accrued in start-up business ventures, real estate, and management, I will ensure this project rests in the interests of the people and that we can capitalize on the private investment offered by Peach Holdings.
Let this great moment serve as a catalyst for private developers. As our city grows and matures into what we are destined to be – the greatest northern city in all of America to visit, live, work, play and raise a family.
Kudos to Peach Holdings. Kudos to Mayor Dave Bronson. Now the work begins on the final act for the 4th Avenue Theatre.
Rob Forbes is a downtown candidate for Assembly for the 12th seat, and is the former owner of Shred Alaska, and partner of the newly developed Eureka small business center.