Democrat Rep. Ivy Spohnholz announced today that she will not run for office after six years in the Alaska House of Representatives. 
"After a lot of thought and discussion with my family, I have decided that I am not going to run for office in 2022," she said. "I am really proud of what I have accomplished over the last six years in the legislature. I have worked with Democrats, Republicans, and nonpartisans in coalition majorities that have prioritized public education, the University of Alaska, public safety, protecting our most vulnerable, and economic and fiscal responsibility."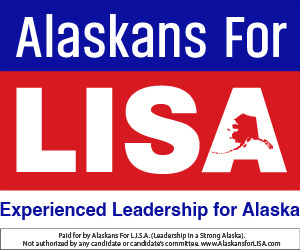 Spohnholz represents District 16 (old number); her new District is 18 under the new redistricting plan. In that new district, Clinton and Trump were even in 2016. It's a swing to lean-Democrat district. She has favored an income tax and a smaller Permanent Fund dividend for Alaskans, and has repeatedly attacked Republican lawmakers and appointees, such as her unfounded accusations against former Judge Karl Johnstone, when he was appointed to the Alaska Board of Fisheries.
"When I reflect on my legislative accomplishments I am particularly proud of passing health care price transparency in 2018 (originally HB 123, but passed in SB 105) and HB 265 expanding access to telehealth care for Alaskans this year. Alaska's health care costs are the highest in the entire country and reducing them is a sure-fire way to put more money in Alaskans' pockets. Each of these policies passed into law through bipartisan collaboration that put Alaskans ahead of special interests," she said.
"I am proud of the passage of SB 26 in 2018, which protected the Permanent Fund and created a new stable mechanism for funding essential government services in addition to Permanent Fund dividends. I remain passionate about the need for a comprehensive and sustainable fiscal plan. Although this work is not yet done, I am confident it will continue," she said.
SB 26 is the bill that restructured the draw from the Permanent Fund Earnings Reserve Account to allow for stable use of earnings from the Permanent Fund to pay for government services. Because it was an incomplete bill that did not make a plan for the Permanent Fund dividend, the Legislature has continued to fight over the amount of the dividend year after year since SB 26's passage. Many critics consider SB 26 to be highly flawed because it took care of government, but not the people of Alaska who are shareholders in the state's oil.
"In my years of service in the Alaska State legislature, I've learned that there are an infinite number of ways to serve Alaskans. For decades prior to coming to the legislature, I worked to make Alaskans' lives better in the nonprofit, business, and public sectors. The Alaskans I've met and worked with over the past six years have inspired me and demonstrated the countless ways we can improve our communities. While I don't know what is next for me, I look forward to my next chapter in service to our great state," she said.
Related: