Rep. Mike Cronk represents a wide swath of rural Alaska, from McCarthy to Eagle, Venetie, Tanana, Cantwell, Northway, Tok, Ft. Yukon, Healy, Two Rivers, Moose Creek, Manley, all along the Yukon River, down the Parks Highway, as well as the Copper River Basin, and everywhere in between.
But as a newly elected member of the Alaska House, he has been excluded from the "Bush Caucus" by its other members.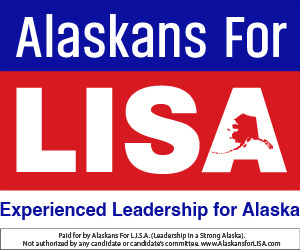 The only explanation he can come up with is that he is a Republican, and that the Bush Caucus is now a club for Democrats.
Cronk arrived in Juneau and immediately reached out to Rep. Bryce Edgmon and Rep. Tiffany Zulkosky, who represent areas from the Aleutians to Kotzebue. They kept waving him off, however. Cronk says that Edgmon told him, "We will talk about it."
But entry into that group of lawmakers was always out of reach, and Cronk eventually, after he met with Edgmon for the third time, he realized they simply were not going to allow him to join the group of Democrats and fake independents.
"As a new legislator who grew up in rural Alaska (Northway), who lives in Tok and represents the most diverse district in Alaska (District 6), representing 'bush/rural' Alaska was of the utmost importance to me," Cronk wrote to his district. "District 6 consists of 9 'remote' villages and over 35, small road accessible villages/towns/cities. It was imperative that I be a part of the 'Bush Caucus' so I could work with the others that share the same issues so we could work together to best represent bush/rural Alaska as a unified voice."
Cronk, who grew up in Northway, is the father of four Alaska Native daughters who are Doyon shareholders. He is a retired teacher of 25 years.
"It was clear that the following did not matter: I represent over 40 villages/small towns/cities. I grew up hunting, fishing, and trapping. I live a subsistence lifestyle.I grew up in a village and learned the traditional ways from the Upper Tanana people," he said.
"I understand the needs of our people as well as the needs of our villages/small town/cities. I have done my absolute best to represent all people of District 6 as well as the entire state. If the Bush Caucus wants to truly represent all of 'Bush/Rural Alaska,' it needs to look beyond the political letter after the name," he wrote. He added that in the past, the Bush Caucus would work with the Republican majority because that's how they could get money for infrastructure needs in rural Alaska.
"But more recently, with the PFD becoming an issue and money becoming more scarce, they've caucused with the Democrat majority who favor more government," Cronk said.
It seems to me that with all the issues that affect Bush Alaska such as: PFD, PCE, education, rural sanitation, lack of infrastructure, managing fish and wildlife for food first, environmentally safe resource development, salmon runs on the Yukon, loss of firefighting jobs, mental health, drug and alcohol abuse, public safety issues, domestic violence, sexual abuse, lack of broadband internet, and lack of jobs, wouldn't it be fitting to have a Republican as part of the 'Bush Caucus' for unity, diversity, and show that we are all working together for Bush/Rural Alaska?"
It was a rhetorical question, no doubt.
"Rest assured, 'Bush Caucus' member or not, I will do my absolute best to represent all of District 6. From McCarthy to Eagle, Venetie, Tanana, Cantwell, Northway, Tok, Ft. Yukon, Healy, Two Rivers, Moose Creek, Manley, all along the Yukon River, down the Parks Highway, as well as the Copper River Basin, and everywhere in between, you will be heard and represented," he wrote. "You will know that your representative will be there for you (the people) before government."