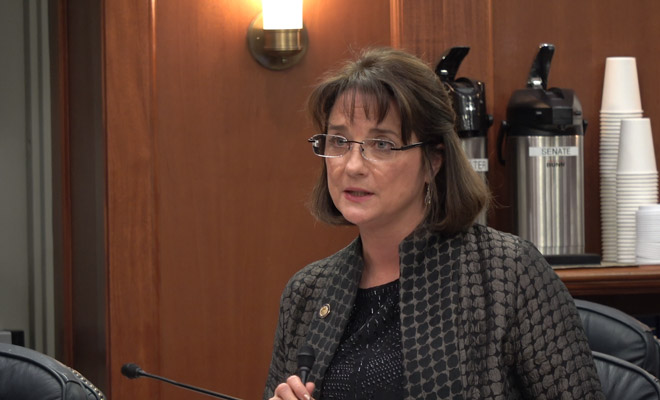 By DAN FAGAN
Republican Sen. Lora Reinbold is measured, calm, mild-mannered, and agreeable – said no one ever. Reinbold is a pint-sized fighter. But when she sets her sights on you – watch out – she's swinging for the knockout.
Reinbold has launched an all-out jihad against fellow conservative and Mat-Su Valley Republican, Gov. Mike Dunleavy. Reinbold has consistently badgered "Big Mike" with over-the-top rhetoric for most of his term. Reinbold has appointed herself as Dunleavy's chief antagonist and most formidable political threat from the right.
Will she run against him in the primary? As Gov. Sarah Palin used to say, "you betcha!" 
On Sunday, Reinbold posted on her Facebook page a post describing the governor's extension of the COVID-19 Emergency Declaration as socialist.
"It looks like Commission (sic), Commander Crum, and Gov. D hired Dr. Zink to tell a story of why medical tyranny is so important for Alaska via health alerts and mandates," posted Reinbold. 
"Each time I read his (Dunleavy's) March 11 'Disaster Declaration' I now see it as their way to fear monger, using COVID-19 as their front, to gain immense control over our lives."
But has Dunleavy really tried to gain "immense control over our lives?"
If anything, his extending the COVID-19 Emergency Declaration frees up health care providers, and does not limit the private sector's ability to function or even flourish, unlike the unreasonable, harsh, and job-killing restrictions put in place by Anchorage city leaders.
Dunleavy, much like President Donald Trump, has allowed local government leaders to determine how to deal with the spread of the coronavirus.
His emergency declaration extension allows hospitals continued flexibility and the ability to overcome burdensome regulations when treating the virus. It allows for more telehealth instead of in-person visit requirements. The extension also allows hospitals to set up new temporary facilities to house patients if they become overcrowded.
The extension also keeps open the Joint Incident Command Center and keeps federal funds flowing into the state to help with dealing with the virus.
There are also practical benefits to extending the extension. It allows businesses the ability to sell alcohol curbside, so customers don't need to come inside.
"The new disaster declaration will continue to provide certainty to Alaska's health care system and Alaskans during this pandemic while avoiding any disruption to the state's economy," said Jeff Turner, the governor's deputy press secretary.
There's not a single component of Dunleavy's disaster declaration that hurts the private sector. Yet Reinbold makes it seem like the governor and his team are an Alaska version of Bernie Sanders.
"Sadly, they have unleashed a constitutional, economic, educational, and emotional crisis on Alaskans," Reinbold posted on Facebook. "Many of the mandates and health alerts are not only ridiculous, but they are scientifically unsubstantiated, many are unconstitutional and it's easy to predict, they have created more harm than good."
Reinbold even went to the extreme of asking if its time for Zink, Crum, and Dunleavy to "step aside."
Reinbold also called for the governor to "ask God's forgiveness and forgiveness of Alaskans for the damage done to Alaska and Alaskans."
To say Reinbold is prone to fits of wildly emotional hysterics is an understatement.
The truth is, Dunleavy has been much more measured in his approach to COVID-19 than most governors. 33 governors have issued statewide face mask mandates. Other governors have limited the size of gatherings including for churches. Dunleavy has done none of that.
The governor does not have the authority to stop the over the top tyranny placed on the private sector by the hard-core Leftists running the city of Anchorage.
Even conservative Assembly member Jamie Allard agrees the governor is not to blame for the assault on the freedoms of Anchorage citizens. Allard has criticized the governor in the past for not speaking out more about the issue. But unlike Reinbold, her criticism ends there.
"Anchorage municipalities extreme mandates and their enforcements have proven ineffective," writes Allard. "Anchorage should follow Gov. Dunleavy's lead when he stated Alaska is open for business."
If Reinbold was really upset about constitutional rights being violated, she should funnel her rage-filled Facebook posts toward the real culprits, the Anchorage Assembly's liberal majority and mayor. 
But that wouldn't help her in the Republican primary two years from now when she runs against Dunleavy.
Dan Fagan hosts the number one rated morning drive talk show in Alaska on Newsradio 650 KENI. Dan splits his time between Anchorage and New Orleans.